KWPN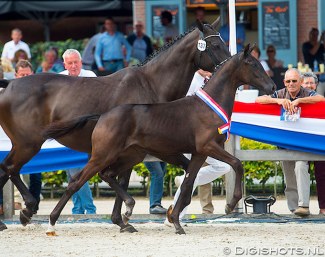 The filly Nina Ricci (by Franklin x Uphill) was named the 2018 KWPN Foal Champion at the annual KWPN Championships held in Ermelo, The Netherlands, on Friday 17 August 2018.
A group of 11 foals was selected for the champion's ring to fight for the KWPN Foal Champion's title. 
Judge Petro Trommelen commented that the top lot are "all foals that move easily with good technique. Striking is that all finalists are almost all by different sires. We didn't select on that but it is a good sign about the large breeding base. Franklin was the only one with two offspring in the finals, amongst them the champion."
The black filly Nina Ricci received the champion's sash. She is bred by brothers Martin and André van Norel and is out of keur mare Felice. 
"A foal with much type and a striking shoulder. She trots and canters with much power and expression," said Trommelen.
H. Ter Huurne's colt Nightsky TH (by Dream Boy out of Juthmara TH (by De Niro)) was named the reserve champion.
 "A foal that moves uphill and shows good ability to collect and extend," Trommelen stated. 
The colt Nyandro JZ (by Geniaal x Jazz), bred and owned by Zeewuster and J. de Jager, landed third place. He stood out with his suppleness and lightfooted canter.
Results - 2018 KWPN Foal Championship
1. Nina Ricci (by Franklin x Uphill)
2. Nightsky TH (by Dream Boy x De Niro)
3. Nyandro JZ (by Geniaal x Jazz)
4. Nora-Laika L (by Ebony x Wolfgng
5. Nikita CVT (by Indian Rock x Wynton)
6. New Generation From KVB (by Frankling x Vivaldi)
7. Nero (by Governor x Special D)
8. Nanory (by Ghandi x Santano)
9. Neffel (by Apache x Charmeur)
10. Nicolay (by For Ferrero x Havidoff)
11. Nalucïenne STMT (by Quantensprung x Ampere)
Photo © Digishots
Related Links
Metallic Named 2017 KWPN Foal Champion
Le Formidable Named 2016 KWPN Foal Champion
Kompaan Named 2015 KWPN Foal Champion
Jambeau Named 2014 KWPN Foal Champion
Islero Proclaimed 2013 KWPN Foal Champion
Hero-K Proclaimed 2012 KWPN Foal Champion
Gregwaard Proclaimed 2011 KWPN Foal Champion
Ferrari Proclaimed 2010 KWPN Foal of the Year