2018 European Under 25 Championships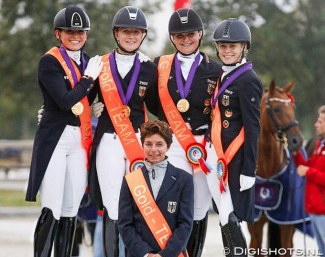 The German team reigned supreme in the team competition at the 2018 European Under 25 Championships in Exloo, The Netherlands, on Wednesday 15 August 2018. Home team Holland finished with silver, while Great Britain got bronze. 
The 2018 U25 Europeans were originally supposed to take place at De Gouberg in Roosendaal, The Netherlands. The event was relocated to Exloo as Roosendaal experiences financial issues and the show kicked off in style with an opening ceremony and presentation of the teams on Tuesday 14 August. 
Dominant Germans Go for Gold
The German dressage team was a superior force in Exloo leading the team ranking with 2016.706 points, almost a full seven percentage points ahead of Holland. Team anchor was Jil-Marielle Becks aboard her home bred 10-year old Westfalian gelding Damon's Satelite. The Damon Hill x Rubin Royal offspring scored 74.441% to finish second in the Intermediaire II, the U25 class that counts for the team championship. 
The judging panel, consisting of Francis Verbeek-van Rooy (NED), Magnus Ringmark (SWE), Susanne Baarup (DEN), Peter Storr (GBR), and Francisco Guerra Diaz (ESP), were hardly in unison and had wildly differing opinions on numerous top rides. Becks placed between first and seventh and her marks went from 72.500% up to 76.176%.
The German effort for gold was supported by the 2017 European Under 25 Champion, Lisa-Maria Klössinger on her 14-year old Baden Wurttemberger bred FBW Daktari (by Donautanz x Carpaccio) who landed third place on 74.294%. Her marks were closer together going from 73.382% to 75.735%. The third German team score was 70.971% which Bianca Nowag rode on the 14-year old Westfalian Fair Play RB (by Fidermark x Brentano II). She placed 9th.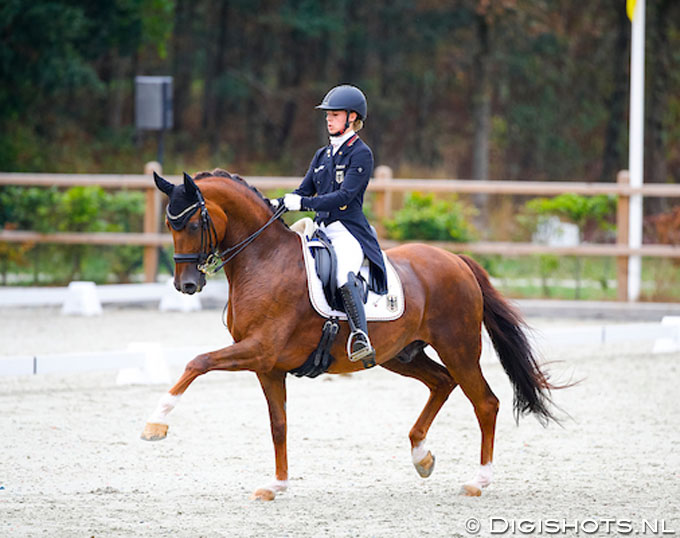 This is the third, consecutive year that the German Under 25 riders have captured team gold at the Europeans. 
"As title defenders you always have a certain claim and when you go on the road with the German team, the expectations are very high. When you fulfil these, a certain pressure drops," said German U25 team trainer Sebastian Heinze. "I am very happy with all four riders today. They rode very well and all horses went well. It was a pity that with Juliette (Piotrowski) there were mistakes in the two tempi changes. When Lisa's first piaffe had been prettier, she would have placed first maybe in the individual ranking. Jil was of course super. She was strong to produce such a ride as a team rookie. It is clear that she can do it and that her horse goes well, but it's always a different task at a championship. It's impressive how she does it with so much cool and routine in the test. Also Bianca and Fair Play had a super round."
Home Team Grabs Silver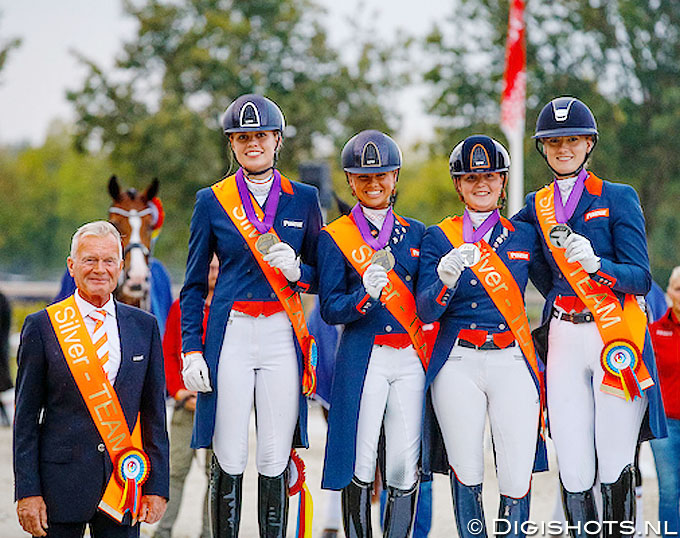 The Dutch team finished in silver medal position with 212.765 points and Denise Nekeman and Boston (by Johnson x Quattro B), who were asked to drop from the senior division back to Under 25 to complete the Dutch team in Exloo, became the strongest scoring pair in sixth place with 72.676%. Nekeman got between 70.735% and the high score from the Dutch judge with 74.265%. 
Dutch Jeanine Nieuwenhuis and her powerhouse 13-year old KWPN gelding TC Athene (by United x Jazz) were the hot favourites for the individual gold after winning the CDIO-U25 in Aachen a month ago, but in Exloo they took a slower start and landed 7th place with 71.824%. The chestnut gelding, who struggles with the piaffe, earned between 69.118% and 73.824%, placing between 3rd and 16th place with the individual judges.
Holland's third rider was Maxime van der Vlist on the 12-year old KWPN gelding Bailey (by Negro x Balzflug). They placed 17th in the Intermediaire II with 68.265% and scored between 66.765% and with a high score from the Dutch judge of 69.853%.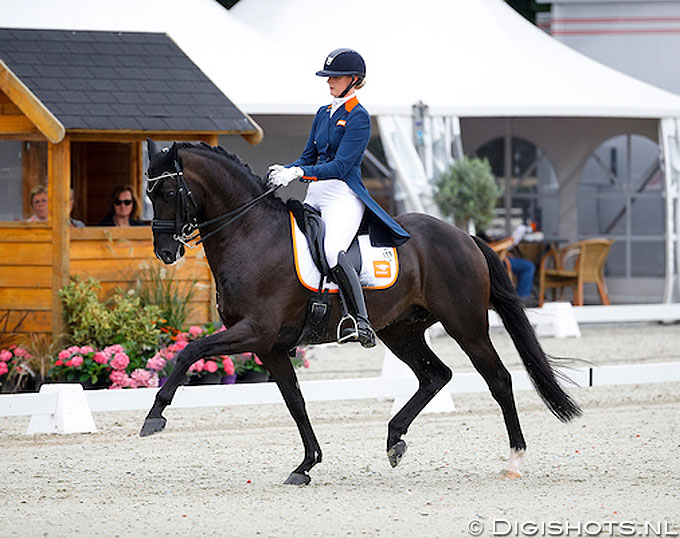 Dutch team trainer Alex van Silfhout commented that, "all riders did their very best and did not miss anything in their preparation. There were a few bad luck moments in this competition, but we were happy that the favour was on our sides in the battle between silver and bronze."
About his riders, Van Silfhout said,  "Denise rode a strong test with a very good trot and canter tour. The piaffe was very good, but there were a few hiccups in the passage. That cost points. TC Athene always moves with much expression, also in passage, but in the first piaffe was earth bound and there was a communication error. This resulted in some beauty errors and lower points. It was a strong ride, but it can be better. Bailey was on the aids and Maxime rode a clean test with much control. In the second pirouette he changed behind and Maxime couldn't fix it. These are mistakes that count double and that cost a lot of points at a championship."
Great Britain Rides on Fry's Wave of Success
After winning the 7-year old division at the World Young Horse Championships, British Charlotte Fry is still riding on a wave of success,  topping the board in the Intermediaire II with 74.941%, a personal and seasonal best mark.
Aboard Anne van Olst's 10-year old KWPN gelding Dark Legend (by Zucchero x Tango), Fry had not scored higher than 71.794% in an Inter II or short Grand Prix this 2018 show season, but in Exloo all pieces came together and the duo produced a whopping 74.941% with individual scores going from 71.176% to 77.794% (between first and eight place) !!
This top mark pushed Great Britain into bronze medal position with 212.118%, coming close to Holland's silver medal team score. Britain's second best scoring rider was Ryan Todd on the 17-year old Danish bred Charlex Eskebjerg (by Carano x Midt West Ibi Light) who landed 15th place with 68.912%.
Rebecca Edwards and Alice Oppenheimer's 15-year old British Hanoverian Headmore Delegate (by Dimaggio) were 17th with 68.265%.
Fry took to Facebook after winning team bronze and wrote, "Darky was totally incredible to win the test with 74.9%, I'm so proud of him! What an exciting day and it couldn't have been possible without the best teammates, number 1 trainer Anne van Olst, and best groom Claire James. Now to prepare for tomorrow's test."
Dane and Swede In Top Five
The highest scoring rider from a non-medal winning team was Danish Victoria Vallentin on Sam Duckworth's 12-year old Oldenburg stallion Ludwig der Sonnenkönig (by London Swing x Liberator). Trained by her father Soren Vallentin, Victoria steered the chunky chestnut stallion to a fourth place with 74.118%.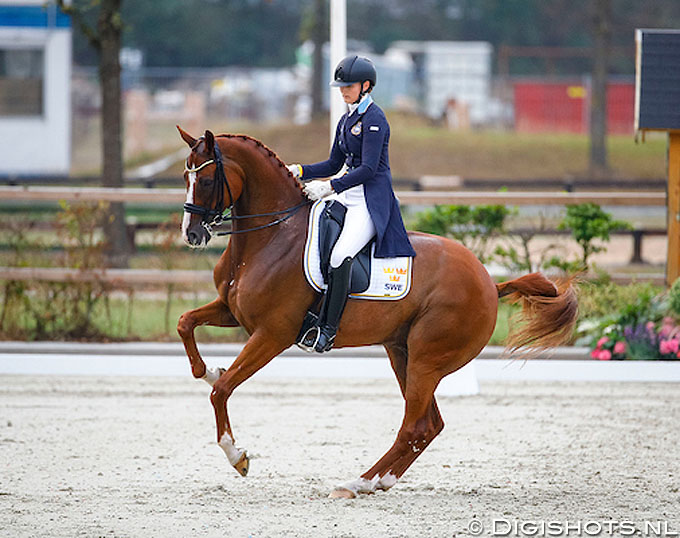 Jan Brink's student Marina Mattsson rode her long-time sponsor Patrik Hannell's 9-year old Hanoverian bred Quatermain (by Quaterback x Wilawander xx) to a fifth place with 73.235%.
The European Under 25 Championships continue on Thursday 16 August for an individual set of medals to be won to the top three ranked riders in the Short Grand Prix test. 
Photos © Digishots - Complete photo gallery of the European Under 25 Championships here.
Related Links
Scores 2018 European Under 25 Championships
Eurodressage coverage of the 2018 European Under 25 Championships