2018 Swedish Pony and Children Championships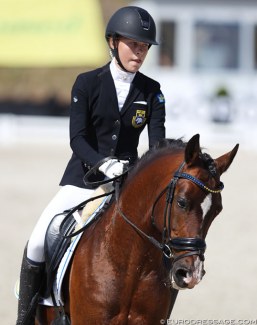 My Sandgren became the winner of the 2018 Swedish Pony Championships which were held in Gavle, Sweden, on 19 - 22 July 2018. Emilia Berglund Bergakra became the winner of the 2018 Swedish Children's Championship, hosted at the same event.
The Swedish Pony Nationals were also the final observation trial for team selection for the European Championships three weeks later.  No less than 38 combinations participated in the FEI level dressage pony championship and 15 pairs rode the third and final round - the Kur to Music - in an attempt for a podium place.
My Sandgren and her 13-year old German warmblood stallion Twenty Two (by Durello Top x Mister Man) became the clear overall winners. The pair won the team test with 71.476%, the individual with 71.081% and reigned in the kur to music with 73.275%. With a total of 215.832 points the gold medal was theirs.
The silver went to Meja Karlsson on her 10-year old Dutch Welsh pony Wise Guy (by Bodo x Orchard d'Avranches). She produced three consistent rounds over the weekend with 69.667% in the team test, 70.901% in the individual test and 71.905% in the kur for a total of 212.473 points  
Emilia Berglund Bergakra and the 17-year old Swedish bred stallion Jarno RP (by Henfynyw Tywysog x Isaksbo Jeronimo) finished on the bronze medal step of the podium with 210.350 points. The combination posted 68.810% in the team test, 70.225% in the individual and 71.315% in the Kur to Music.
At the 2018 Swedish Children Championships 11 combinations gathered and seven rode both championship rounds, which consisted of the team and individual test. 
Emilio Berglund Bergakra and the 7-year old Swedish warmblood mare My Friend (by Friendship x Troll) got the gold with a total of 140.275%, but the pair felt the heat from silver medalists Ebba Johansson who finished second with 139.565 points. Berglund got 71.346% in the team test for the victory, but was second in the individual with 68.929%. Johansson and her 18-year old Swedish bred Archimedes (by A Jungle Prince x Supermax Macho) scored 70.577% and 68.988%. The bronze medal went to Moa Hassellund on the 7-year old Swedish gelding Dior SD (by Damino SD x Florencio). She posted 69.487% and 68.214% to total 137.701 points.
Results - 2018 Swedish Pony Championships - Galve
1. My Sandgren - Twenty Two -  71.476 - 71.081 - 73.275 ---215.832
2. Meja Karlsson - Wise Guy - 69.667 - 70.901 - 71.905 ---212.473
3. Emilia Berglund Bergåkra -  Jarno -  68.810 - 70.225 - 71.315 ---210.350
4. Hedda Thunberg - Brave Heart -71.000 - 69.550 - 69.170 ---209.720
5. Wynja Eriksdotter Rubin -  Wacos Rache MW -  68.952-  70.135 - 70.385 ---209.472
6. Mary-Sophie Haid-Bondergaard -  Bomgaardens Dicaprio -  69.190 - 68.288 - 71.525 ---209.003
7. Tilde Larsson - Hedemand's Megare -  67.333 - 70.631-  69.905 ---207.869
8. Moa Sundelöf - HB Dancing Daylight -  70.000 - 68.514 - 67.970 ---206.484
9. Viktoria Wåhlin -  Janine WE - 68.143 - 69.144 - 68.960 ---206.247
10. Amanda Lindholm - Inspi(red) Justice - 65.857 - 69.324 - 69.575 ---204.756
11. Zelma Björk - Maine -  68.905 -  66.171 - 69.370 ---204.446
12. Saga Larsson - Nijebert's Cupido - 67.238 - 67.838 - 68.870 ---203.946
13. Emelina Sjöblom - Vanity Fair - 67.619 - 67.162 - 68.875 --- 203.656
14. Nicole Crona -  Giacomo - 66.619 - 68.919 - 66.755 ---202.293
15. Julia Skatt - EG Midsummer - 66.381 - 67.973 - 66.705 --- 201.059
Results  - 2018 Swedish Children Championship
1. Emilia Berglund Bergåkra -  My Friend -  71.346 - 68.929 --- 140.275
2. Ebba Johansson - Archimedes - 70.577 - 68.988 --- 139.565
3. Moa Hassellund -  Dior SD -  69.487 - 68.214 --- 137.701
4. Tindra Holmertz - Laura - 69.551 - 66.190 --- 135.741
5. Tilda Westerdahl - Rihanna - 67.949 66.786 --- 134.735
6. Ida Örnefors A- EL Lakrits  -  67.244 - - 66.845 --- 134.089
7. Klara Ambrosiani - Carinn - 65.513 - 66.607 --- 132.120
Related Links
Barnestam Olssen Wins 2017 Swedish Pony Championships
Pettersson, Bergakra Berglund, Gyllensward, Mathisen Win 2017 Swedish Dressage Championships
Egholm Hebsgaard Wins 2015 Swedish Pony Championships
Andersson, Mattsson, Aspnas Win Gold at 2012 Swedish Youth Riders Championships
Marina Mattsson Wins 2010 Swedish Pony Championships