2018 CDIO-PJYR Hagen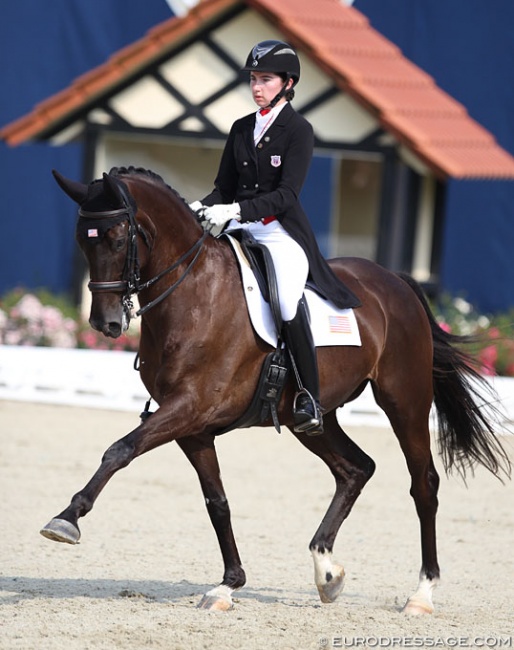 The 2018 American Young Rider European Tour, a link to the Discover Dressage  USEF/USDF Emerging Athlete Program, has concluded at the Future Champions FEI CDIO-Y Hagen. From June 12-17, the athletes named to the tour, Ben Ebeling (Moorpark, Calif.), Callie Jones (Henderson, Ky.), and Anna Weniger (Apex, N.C.), contended as a team and individually against top riders in their division from Germany, Belgium, Denmark, Great Britain, The Netherlands, and Russia.
The CDIO-Y Hagen is a team competition, allowing the young riders to gain invaluable experience in this format. Led by U.S. Dressage Youth Coach and Chef d'Equipe George Williams, the U.S. kicked off the competition on Thursday, June 14, with the CDIO-Y Team Test, drawing seventh in the order of seven teams. Ebeling and Behlinger, Amy Roberts Ebeling, Ann Romney, and Elizabeth Meyer's 10-year-old Hanoverian gelding, earned a score of 67.108. Jones and Don Philippo, her 10-year-old Hanoverian gelding, earned a score of 65.490. Weniger and Don Derrick, Dawn Weniger's 14-year-old NRPS gelding, earned a score of 67.794. As the top-scoring tests, Weniger and Ebeling's scores contributed to the final U.S. team score of 134.902 and a sixth-place finish.
"Future Champions is a true international competition with all of the appropriate pomp and pressure that goes with a Nations Cup," said Williams. "Of course, we want to place as high as we can as a team, but when you look at the point spread you realize that it was a real fight for bronze and easily within our reach."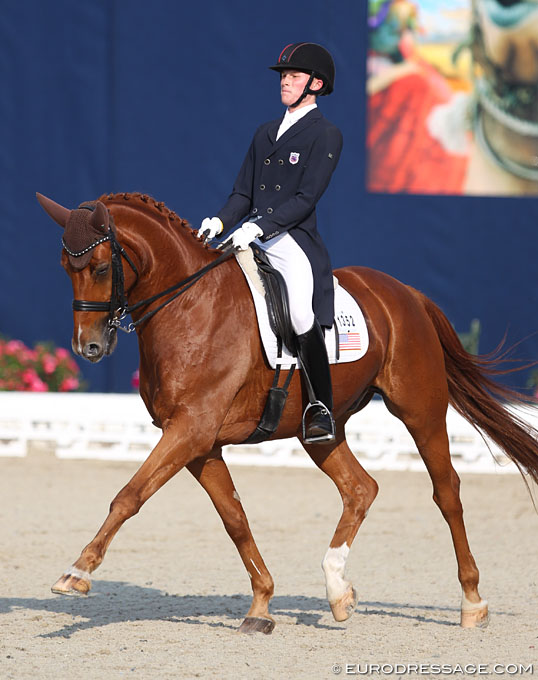 On Friday, the athletes demonstrated talented and tactful riding in the individual test. Weniger and Ebeling placed in the top-15, placing ninth on a score of 67.892 and eleventh on a score of 67.647, respectively. Jones's horse uncharacteristically got his tongue over the bit early in the ride and she made the decision to retire. "She was a great sport and handled herself with grace," said Williams.
Sunday brought the Freestyle tests and the conclusion of competition. Jones was able to ride in the "Kür Kleines Finale" and earned a score of 69.334, finishing third. Then in the "Kür Finale," Ebeling earned a score of 67.792 to finish 11th. Weniger earned a score of 70.750, closing out the competition in the sixth position.
"I was proud of our riders," said Williams. "Anna improved with each test, moving from 13th to ninth, and then sixth. Ben was our steady eddy with clean tests and a consistency we could count on. Unfortunately, Callie had a tougher go in the Team Test, causing her to score lower than usual. Then she had an uncharacteristic problem in the Individual. However, she came back with a beautiful, fluid ride in her Freestyle. Overall, after their performances here I think you'll see our riders become more confident and attain personal best as they continue to raise the bar."
Ahead of the CDIO-Y Hagen, Jones and Weniger competed in the FEI CDI-Y Compiègne, from May 19-20, at Les Internationaux de Dressage. In the individual test, Weniger placed in the top-10 with Don Derrick on a score of 68.971 and Jones placed in the top-15 with Don Philippo on a score of 66.176. Jones and Weniger closed out the competition placing in the top-10 in the individual freestyle. Weniger earned a score of 68.292 and Jones earned a score of 68.350. Jones and Weniger then competed in the FEI CDI-Y Aachen from May 28-30.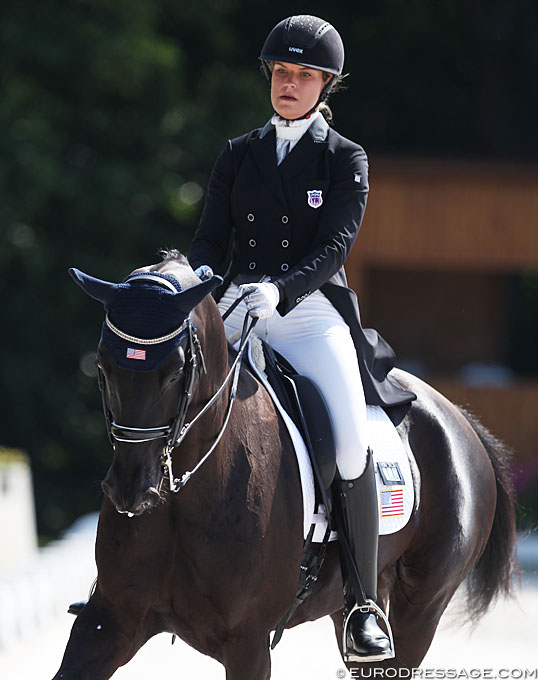 "The US Equestrian Dressage European Young Rider Tour is a terrific introduction for our riders. Not only do they experience competitions in other countries, but they also to see first-hand what the world standard is at their level in other leading nations in dressage," said Williams. "Many of Europe's best young riders are at these competitions as they, and their countries, prepare for the European Championships. I have always believed that when you are well prepared and you compete against the best, you end up raising your own level of performance."
The Dressage European Young Rider Tour is an important part of the dressage pathway, introducing a group of young riders in the U.S. to international competition as individuals and as part of a team.
Text USEF - Photos © Astrid Appels - No reproduction allowed
Related Links
American Athletes Selected for 2018 European Young Rider Tour
Scores: 2018 CDIO-PJYR Hagen
Scores: 2018 CDI Aachen
Scores: 2018 CDIO Compiègne