2018 World Young Horse Championships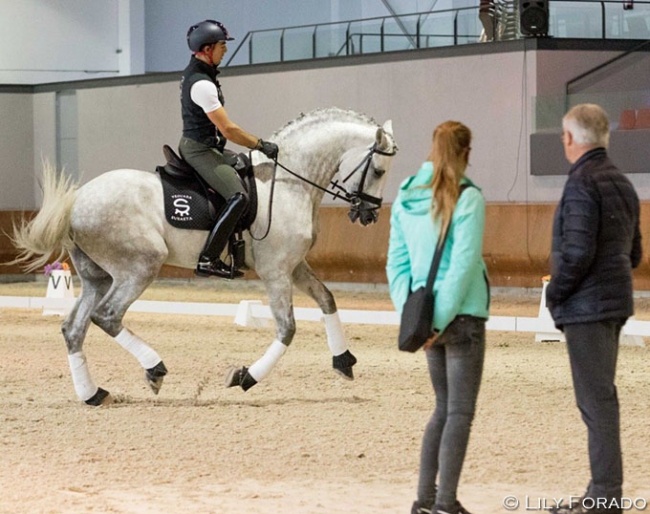 The Spanish Equestrian Federation, ANCCE (Spanish PRE society) and CDE (Spanish Sport Horse society) hosted the first WCYH training session and observation trial for team selection for the 2018 World Young Horse Championships.
Eleven PRE horses and their riders were invited by ANCCE to the seminar. They gathered at the Amtuna CECYL Equestrian Facilities in Segovia, Spain, on 4 - 6 June 2018 for a first training seminar that leads to team selection for Ermelo. 
In the morning the veterinarians reviewed horses on hard ground as well as in the arena.  After a veterinary assessment, the combinations got the opportunity to train with German Jürgen Koschel, who is responsible for selecting the horse/rider combinations for the World Championships. He also provides advice for test preparation and accompany the Spanish team in Ermelo.
The participating pairs to the Spanish WCYH selection process are:
5-year-olds
Molinero FS - Alba Abollo
Campanero HGF - Jose Daniel Martin Dockx
Qu de Susaeta - Guillermo Garcia 
Sólano de Centurión - Juan Manuel Galeano
Solo de Centurión   - Lucas Martinez
6-year-olds
Poeta de Susaeta - Guillermo Garcia 
Simpático Candau - Teia Hernandez
Rhin de Centurión - Lucas Martinez
7-year-olds
Romero de Trujillo - Teia Hernandez
Mejorano HGF - Jose Daniel Martin Dockx
Pomelo CEN - Isidro Maldonado
Photo © Lily Forado
Related Links
Jurgen Koschel Appointed Spanish PRE Team Trainer for World YH Championships
Only PRE/CDE Horses to Represent Spain at Future World Young Horse Championships