2018 CDIO Uggerhalne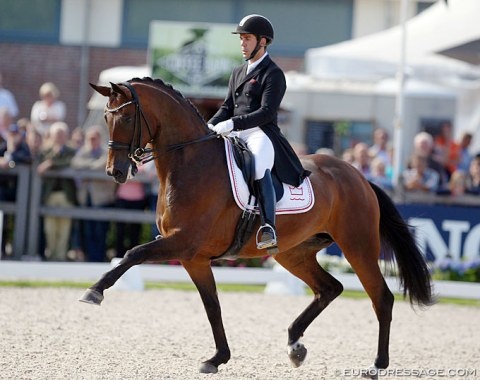 The audience can look forward to a high-carat dressage show on Sunday 27 May at Equitour Aalborg in Uggerhalne, Denmark. Just after the Helgstrand Dressage stallion show, Severo Jurado López will perform Grand Prix exercises on the triple world champion for young horses, Fiontini.
The DWB mare Fiontini has sensationally won the world championship for young dressage horses as 5-, 6- and 7-year old under the Spanish Olympic rider Severo Jurado López, who rides for Helgstrand Dressage.
The 8-year old Fiontini by Fassbinder/Blue Hors Romanov (bred by Hanne Lund and Henrik Hansen) is jointly owned by Stutteri EVO in Vejen and Helgstrand Dressage in Vodskov, and the overall target for the horse and rider combination is the Olympic Games 2020 in Tokyo.
"There is no doubt that Fiontini is a horse in a class of its own and that she possesses all the qualities needed to be among the best in the world," says Andreas Helgstrand.
He will be commenting Severo's ride on Fiontini to the audience and explain about the quality and the execution of the exercises shown by the mare.
Related Links
Fiontini Sold to Helgstrand and Stutteri EVO
Three-Peat for Fiontini at 2017 World Young Horse Championships