KWPN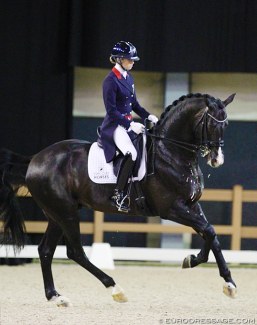 In the wake of the Warmblood Fragile Foal Syndrome (WFFS) news, which was first internationally reported on by Eurodressage, one European based stallion has so far been announced as being carrier of the WFFS gene: Everdale.
Brief History of WFFS
WFFS was first recognized in 1984 but it took until 2011 for scientists to find the gene responsible in the equine genome. Between 2012 and 2013 populations in Europe were tested for the condition, but the syndrome has stayed quite hush in Europe, while in America more research and systemic testing have started. 
WFFS is an autosomal recessive trait, meaning a foal can only be affected if the foal inherits the disease from both parents. Parents that are carriers do not have any symptoms associated with WFFS. However, they will pass on a copy of the defective gene to their offspring 50% of the time. If breeding two carriers the foal has a 25% chance of being affected and a 50% chance of being a carrier.  Most fetuses with this disorder are aborted, but if carried to term, no cure is available and the affected foal will die or must be euthanized shortly after birth.
Everdale Carrier of WFFS
Everdale is the first European based stallion of which the owner has confirmed that he tested positive for WFFS. However, it is expected that many more will follow as stallion owners in the leading breeding countries such as Germany, Holland, Denmark and Sweden will need test their stallions and have the ethics to disclose the information to its breeders. 
Gert-Jan van Olst's other stallions were tested by Hilltop too (Negro, Painted Black, Lord Leatherdale, Chippendale, Glamourdale and George Clooney) and they were all negative. 
"Van Olst believes that the scale of the problem is relatively small, because in all those years almost 1000 foals by Everdale were born and there were never problems," a press release by Van Olst stated. "Nonetheless Van Olst takes this seriously and wants to know more about the influence of the WFFS gene on breeding. It will be important to see which position KWPN will be taking, because most likely Everdale is not the only carrier in the European stallion book."
Van Olst is offering all its breeders who want to breed to Everdale this 2018 season a free WFFS testing. The breeder needs to send a hair and blood sample to Van Olst, who will send it the a U.K. based lab where the test is carrier out. All costs for the test will be covered by Van Olst. 
"If the mare turns out to be no carrier after the test, there is no problem," said Van Olst. "If the mare is a carrier, there is a heightened risk and the breeder will have the choice to take the risk or choose another stallion."
Van Olst had the first tests done in England, by providing a blood and hair sample. In the meantime, the Dutch lab "Van Hearingen" can also do the test based on a hair sample (cost €39,50 excl VAT).
Why Now in the News?
Major dressage stallion station Hilltop Farm in the U.S.A. was the first to systematically test its dressage stallions for WFFS and the American Hanoverian bred Sternlicht (by Soliman de Hus) tested positive as a carrier. He has been removed from Hilltop's stallion roster. Hilltop farm also distributes semen of Gert-Jan Van Olst's stallions and Everdale has tested positive too. 
Hilltop carried out the testing after a WFFS foal was born in Mary Nutall's breeding barn. 
It is expected that more than 10% of the warmblood stallion stock in Europe is carrier of WFFS. The scale of the defect will only be known when European studbooks will take responsibility and order their stallion owners and breeders to test their stock.
Photo © Astrid Appels
Related Links
Kathleen Kirsan: "Cleaning Up Warmblood Fragile Foal Syndrome"
Mary Nuttall: "Breeders Beware of Warmblood Fragile Foal Syndrome"
U.S. Breeders and Stallion Owners on Alert for Warmblood Fragile Foal Syndrome
Statement from KWPN-NA Regarding Warmblood Fragile Foal Syndrome
Statement of The American Hanoverian Society Board regarding Warmblood Fragile Foal Syndrome