2018 World Young Horse Championships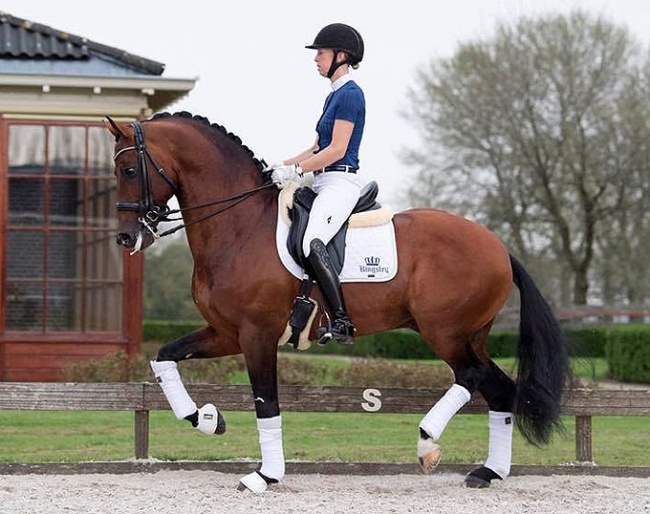 The Dutch equestrian federation has released the long list of combinations invited to attend the second training and observation trial for Dutch team selection for the 2018 World Championships for Young Dressage Horses in Ermelo, The Netherlands, 2 - 5 August 2018.
The first of four official observation trials took place at the KWPN and JNHS head quarters in Ermelo on 19 and 20 April 2018. 
Selectors Bert Rutten, Rien van der Schaft and Monique Peutz assessed the combinations over two days at the first trial and last weekend drafted a long list of pairs that are allowed to continue the selection process. The second trial will be on 7 - 8 May 2018.
The long listed combinations are
5-year olds
Bart Veeze  - Imagine  and Imposantos
Diederik Van Silfhout -  Fürst Jazz
Emma Laarkamp -  Inferno
Emmelie Scholtens -  Indian Rock
Femke De Laat-  Intro K
Hans Peter Minderhout - Incognito
Jos Hogendoorn  - Icerole DVB
Joyce Lenaerts -  Iconic B
Juliana Bronkhorst - Ibiza
Krista Kolijn - Ivy
Laura Reija - Imagine
Marlou De Ruyter - Immens-Ieni K  and Infinity 
Martijn van den Breul Matao -  Ivaldo Mb
Paulien Kouwenhoven - Intenz
Renate Van Vliet - In Style
Theo Hanzon - Igitur V/H Goorhof
Vai Bruntink - Irabel
Yessin Rahmouni - Impress Taonga
6-year olds
Adelinde Cornelissen - Henkie
Dinja Van Liere - Hermès, Hartsuijker, and Haute Couture
Emmelie Scholtens - Hero
Esmee Janssen - Hummer
Esmee Van Gijtenbeek - Hot chocolate
Ingrid Malan - Haeden
Lars Op 't Hoog - Handretti
Lotte Meulendijks - Hennesey
Mara De Vries - Habibi DVB
Marie-josé Calis-  Haute Couture
Quinty Vossers - Hummer
Nars Gottmer - Hummer N
7-year olds
Adelinde Cornelissen Governor-STR and Goodman
Floor Van Kempen - Geronimo
Franka Loos - Crosby and Giovanni
Jeanine Nieuwenhuis - Genua TC
Jennifer Sekreve - Gamante d
Jonna Schelstraete - Van den Ham - Grand-charmeur
Joyce Heuitink-  Gaudi vita
Judith Ribbels - Galina
Kirsten Brouwer - Ghandi
Lotje Schoots - Grace of Rose
Marijke Giessen - Genuine
Nicky Snijder - Game boy sth
Stephanie De Frel - Gladiator
Thalia Rockx - Gerda Nova de La Fazenda and Golden Dancer de La Fazenda
The team for Holland will be announced after the fourth session on 28 June 2018.
Photo © Esmee van Gijtenbeek
Related Links
Dutch Horses Gather for First 2018 WCYH Observation Trial