2018 CDIO Uggerhalne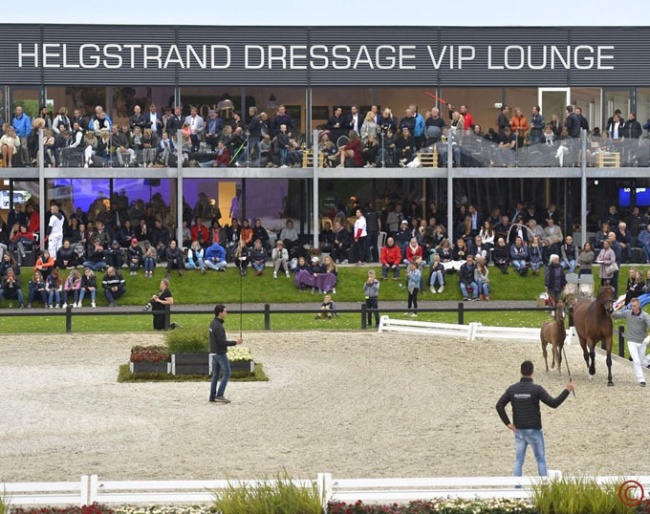 The 2018 Equitour Aalborg in Uggerhalne, Denmark, on 23 - 27 May 2018 will not only stage an FEI Nations Cup for dressage and show jumping, as well as a full CDI programme from pony to Grand Prix level, but it will also proudly host the second Nordic International Sales of elite foals and feature a Helgstrand stallion show. 
Don't miss this exciting event that promises a full package of top level equestrian sport, an exciting stallion show on 27 May with world class breeding sires and the opportunity to buy your future dressage star in the Nordic International Sales on 26 May. Breeders wishing to have their foal included in the auction collection, can submit the foal by emailing photos, pedigree and a video clip to lrb@varmblod.dk, or by presenting the foal live at the selection trials on 7 - 8 May in Vilhelmsborg, Atterupgaard and Helgstrand dressage. More info, contact Louise Ringbo or Per Jensen (+31 6 30 98 56 31).
This year there are two new extra's on the show schedule: the Student Riding Cup and the Almased Dressage Amateurs.
The Student Riding Cup is a unique opportunity that allows Danish students to participate in competitions in other riding schools in Denmark without having to bring their own horse. The host riding school provides the students with horses and once a year the finals are being held and the riders from the country's best riding schools are competing in order to win the title as Denmark's best student rider team.
The Almased Dressage Amateurs is a brand new, international show circuit with five events across Europe, starting in Hamburg and followed by Wiesbaden, Aalborg, Luxembourg and Herning. Amateurs are allowed to participate in the tournament, if they are 26 or older and not listed on FEI's World Ranking List. A maximum of 24 equestrians are allowed to compete at every show and each rider is allowed to bring a maximum of three horses (max. 2 in each category).
"We are sure that the riding schools qualifying for the final will have a fantastic experience when they are to compete in the same surroundings as some of the world's best riders from 26-27 May during Equitour 2018," said show host Jens Trabjerg. 
The Equitour Aalborg will be a complete equestrian lifestyle event with a special Summer Party and Campen After Party on Friday 25 May 2018. A huge dinner with Italian-inspired porchetta in the big tent with live music and entertainment will take place from 5:30 pm to 7:30 pm. After dinner, the special car auction will take place followed by a big after party in the Helgstrand Dressage VIP Lounge.
Entry tickets available at www.equitour.dk. Free admission for children under the age of 12. There will be a dedicated kids' area and a special car exhibition every day of the show.
For more information, visit www.equitour.dk