Japan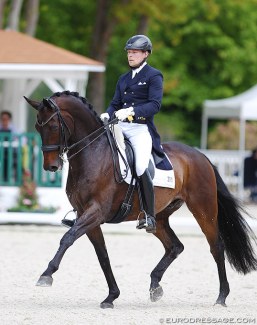 Japanese Grand Prix rider Hiroyuki Kitahara has acquired the 10-year old Danish warmblood gelding Huracan as his 2020 Tokyo Olympic Games hopeful.
Finnish Grand Prix rider Henri Ruoste trained and competed Huracan (by Hotline x Don Schufro) at Grand Prix level and co-owned the horse with his business partner Jochen Arl.
Kitahara is one of Japan's most seasoned Grand Prix riders. He began competing in Europe in 2007 on three Grand Prix horses, gaining valuable experience and mileage amongst the world's best riders. Kitahara campaigned Why Me, Caballero and Hypos at CDI's in Balve, Brno, Verden, Herentals, Oldenburg, Odense, and Braunschweig and just missed out on the team spot for the 2008 Olympics in Hong Kong.
In 2009 he moved back to Japan and represented his country at the 2010 World Equestrian Games in Lexington on Why Mes. He then showed at the nationally staged CDI's in his country until 2012. In 2015 he returned to the arena with Winnetou DDH, whom he last competed in December 2016. 
With the 2020 Olympic Games being staged in Tokyo, the Japanese rider has also been hit by Olympic fever as so many of his dressage riding country mates, who have invested heavily in new horse stock the past year. Huracan has become his choice for a Tokyo quest.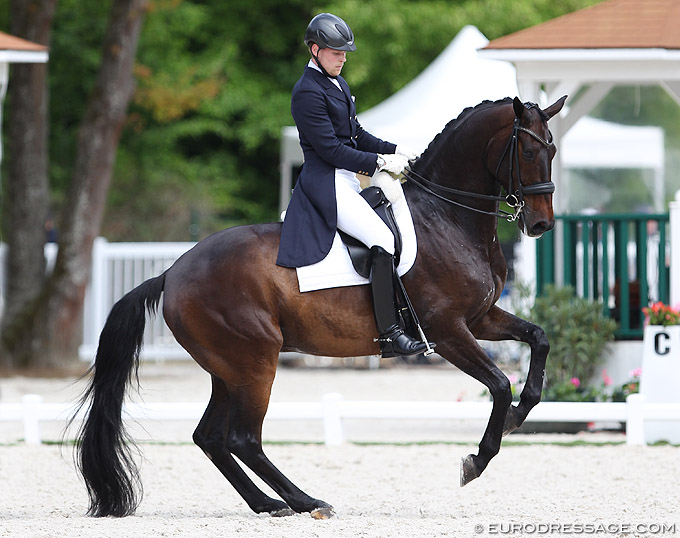 Under Ruoste the young, talented Grand Prix horse booked his first solid results at the CDI's in Saumur, Compiègne and Uggerhalne last year with a 70.353% Grand Prix Special score in the 3* at Uggerhalne as most recent result. Huracan was selected as a Finnish team reserve for the 2017 European Championships.
Kitahara has opted to keep the horse in training with Henri Ruoste at Gut Bertingloh in Menden, Germany, as the 47-year old Hiroyuki will be coached by Henri on the road to Tokyo. The pair is scheduled to make its show debut at the 2018 CDI Saumur.
Photo © Astrid Appels
Related Links
Jochen Arl Shifting Gears, Putting Henri Ruoste in Drivers' Seat of Horse Sale Business
Finnish Team Selected for 2017 European Dressage Championships
Finland's Candidates for Team Selection for 2017 European Championships
Jurgen Koschel Masterclass in Gotemba to Ready Japanese FEI Riders for 2020
Kiichi Harada Wins 2015 Japanese Dressage Championship
Hoketsu Wins Regional Olympic Dressage Team Assessment in Cannes
Definite Entries for 2010 World Equestrian Games Dressage