2018 World Cup Finals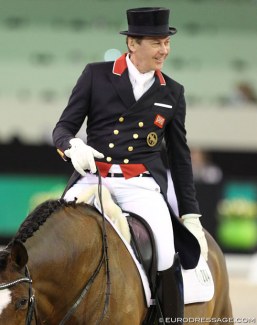 British Emile Faurie and the Russian owned Delatio have withdrawn from competing at the 2018 World Cup Finals in Paris, France. 
On 9 April, the British Equestrian Federation confirmed the withdrawal of Faurie and Elena Knyaginicheva's 14-year old Hanoverian stallion Delatio (by De Niro x Rubinstein) to the FEI.
"Delatio's been going brilliantly and we've been very much looking forward to competing at the World Cup Finals, but this morning he sustained a slight training injury, and with the long term future of the horse in mind, we have made the decision to sadly withdraw from the Finals," Faurie explained. "It's very disappointing as he's been having such a fantastic season."
Great Britain will nonetheless still feature at in Paris as Hayley Watson-Greaves and Rubins Nite received a spot at the Finals following the withdrawal of Australian rider Mary Hanna.
As a result of Emile's withdrawal, Marcela Krinke was first asked by the FEI to substitute. She declined as well as Daniel Pinto. Then Patrick van der Meer agreed to take the vacant spot. 
"Two athletes were on the reserve list - Marcela Krinke Susmelj (SUI) from the WEL standings and Daniel Pinto (POR) from the World Dressage Rankings List (WDRL) - were approached by the FEI for Paris, but were unable to accept the opportunity to compete," said FEI press officer Ruth Grundy.
Patrick van der Meer (NED) with Zippo (based on the WDRL) was then approached as per the process, and the Dutch Equestrian Federation later confirmed go ahead.
Photo ©
Related Links
Krinke Says No, Van der Meer Replaces at 2018 World Cup Finals
Eurodressage Coverage of the 2017-2018 World Cup Finals and Qualifiers