Australia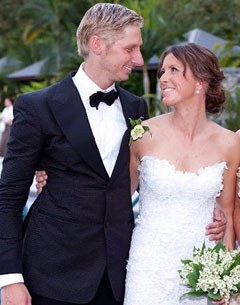 Australian Olympian Lyndal Oatley and her husband, Swedish Olympian Patrik Kittel, are expecting their first child together, a baby girl.
Lyndal, who put her competition career on hold in 2017 for a baby, is three months pregnant and due in October.
The couple has announced that they are expecting a girl. 
"Have been overwhelmed by all the support and care over this whole journey and seriously blessed to have so many wonderful people in our lives ... and now in hers," said Lyndal.
The couple, who got engaged in June 2009 and married at Qualia resort in the Great Barrier Reef in October 2010, recently bought Stable Eulenhof in Dülmen. After the total renovation of the yard they will from Appelhulsen to Eulenhof in the winter of 2017-2018.
Related Links
Lyndal Oatley Secures New Ride, Elvive
Lyndal Oatley and Patrik Kittel: Partners off the Horse, Rivals on It
Patrik Kittel and Lyndal Oatley Acquire Connie Endres' Eulenhof
Oatley and Kittel Get Married
Kittel and Oatley Engaged