2018 DWB 5-Year Old Championship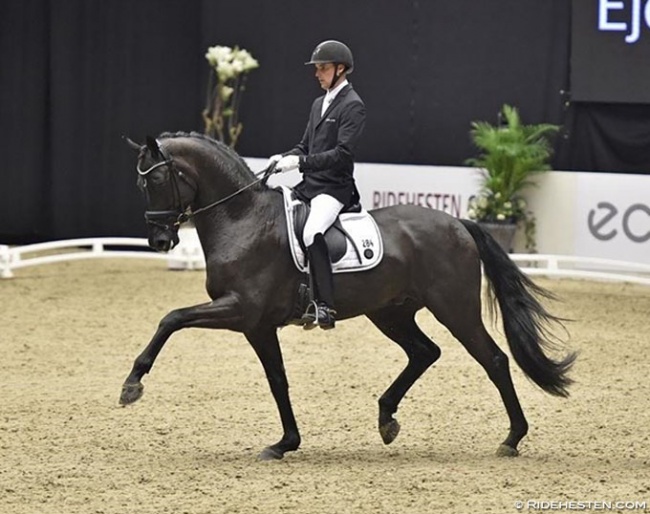 Andreas Helgstrand and the black Zhaplin Langholt became the winners of the 2018 Danish Warmblood Young Horse Championship for 5-year olds, held annually at the Danish Warmblood stallion licensing in Herning, Denmark. 
The 5-year olds have to compete in three rounds: round 1 and 2 take place on the same date. The horses are presented by their own rider, first in front of the DWB judges and then in front of dressage judges. The 23 highest scoring horses after those two rounds are test ridden by a guest judge rider who gives them two scores for rideability and potential. All scores are totaled for the final ranking. 
Bred by Ole Magnus Jensen and Bente Graasbøll, Zhaplin Langholt (by Zonik x Stedinger) was originally ridden by Australian Simone Pearce. The gelding was sent to Helgstrand Dressage U.S.A. in Wellington as the poster boy of the operation to be sold, but when he didn't sell quickly, the idea arose for him to participate in the 5-yo Championships, so he was flown back to Denmark after two months. Two weeks before Herning Pearce fractured her arm falling off another youngster, so the big boss climbed in the saddle for the Championship. 
Zhaplin Langholt was undefeated, winning round 1 with 8.5 for walk, 10 for trot and 10 for canter. In round 2 the horse got 8.5 for walk, 9.5 for trot, 10 for canter, 9 for rideability and 9.5 for potential. Guest judge rider Patrik Kittel
"All my horses are for sale but Zhaplin I'd like to keep to see how he develops," Helgstrand told Danish magazine Ridehesten. "He's complete horse with three good gaits. He's pretty and has power. I had hoped for this results, because I knew he was really good."
The reserve title went to Anne Troensegaard on Delizia (by Furstenball x De Noir), bred and owned by Lotte Kulle. This pair was third after round 1 (8.5 for walk and trot, 8 for canter), third after round 2 with  7 for walk,  9 for trot, 8 for canter, 8.5 for rideability and 9 for potential. Kittel was thrilled with the feeling he got in the saddle and gave her a double 10.
The bronze medal went to Joachim Thomsen aboard Sinding's Atterupgaards Delorean (by Bon Bravour x Sandro Hit). They were 6th in Round 1 (7 for walk, 9 for trot, 8.5 for canter), then dropped to 10th place in round 2 with 7 for walk, 9 for trot, 8 for canter,  7 for rideability and 8.5 for potential. Kittel, however, loved what he felt in the saddle and boosted the bay's score 9.5 and 9 after the test ride, so they finished third overall.  
Anna Kromann and Baunehojens Carpaccio (by Charmeur x White Talisman) were standing in second place after the first two rounds, with 8s and 9s for his gaits, rideability and potential, but the horse could not convince test rider Patrik Kittel and dropped dramatically to a 14th place after receiving 6.5 for rideability and 8 for potential.
Photo © Ridehesten
Related Links
Scores: 2018 Danish Warmblood Young Horse Championships
Zancor Wins 2017 Danish Warmblood Young Horse Championships
Jukebox Wins 2016 Danish Warmblood Young Horse Championships
Hot Shot W Wins the 2014 Danish Warmblood Young Horse Championship in Herning
Zick Flower Wins 2013 Danish Warmblood Young Horse Championship
Charmeur Leads the 2008 Danish Young Horse Championships in Herning
Polka Hit Nexen Wins Herning 5-year old Championship
Helgstrand and Donna Fetti in the Lead in the 2006 Danish Warmblood Young Horse Championship