2018 Dutch Indoor Championships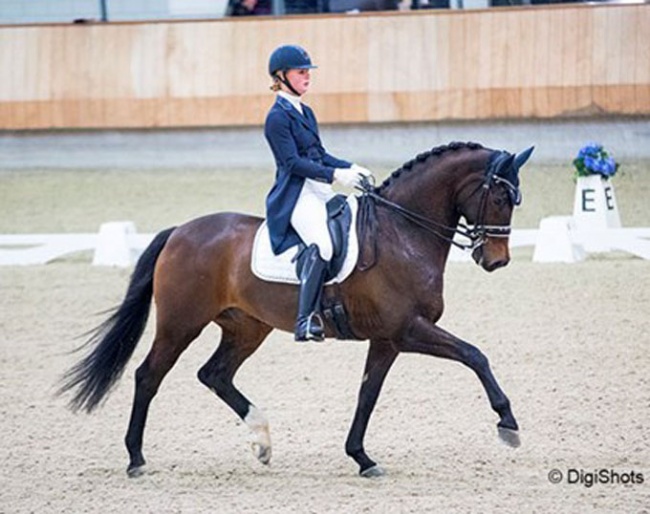 Junior rider Kimberly Pap, young rider Esmee Donkers, small tour rider Adelinde Cornelissen, Under 25 rider Jeanine Nieuwenhuis and Grand Prix rider Diederik van Silfhout grabbed the titles in their respective divisions at the 2018 Dutch Indoor Dressage Championships held in Ermelo, The Netherlands, on 3 - 4 March 2018. 
It was a busy weekend at the KNHS and KWPN headquarters in Ermelo, where the Dutch winter indoor championships were being held. The big tour and youth rider classes were open divisions not requiring qualification, but for the small tour and lower level classes riders had to achieve qualification points over the winter months. 
Pap On Top
At junior riders' level former pony rider Kimberly Pap seems to have found her stride on horses. Aboard the KWPN bred Victory (by Jazz) the 17-year old was undefeated in the two rounds, the team championship test and kur to music. The Nunspeet based rider scored a winning 69.85% and 75.083% for the indoor title. She put herself at the top of the podium, flanked by Annelotte Felix and Florence Siemer. 
"I never expected this and I'm super happy," said Pap. "I've only been just riding this horse and to win here now. I've been riding him for two and a half months. Renate van Vliet used to ride him before me and competed him a few times at M-level and small tour. This year I'm still allowed to do junior riders and I hope to do a few international shows as well as the KNHS Junior Riders' Cup and see how far we get. My horse was very consistent in the contact today and I had him nicely in the frame. We didn't really have any mistakes. Especially the trot went really well, the canter could be neater."
Donkers In Charge of Young Riders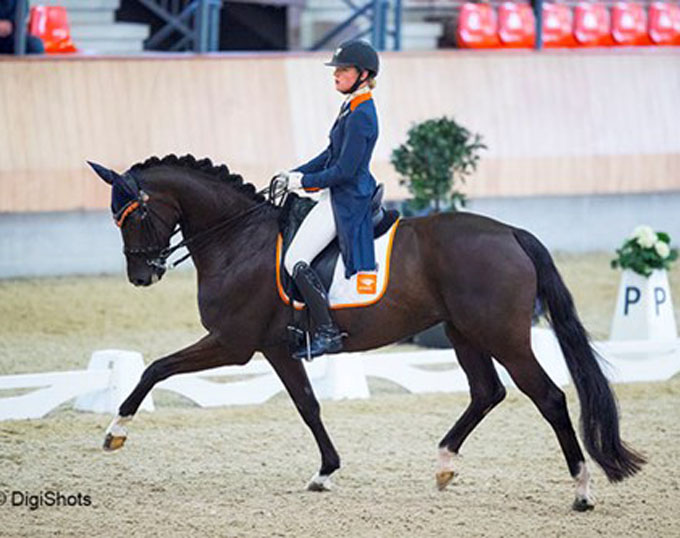 At young riders' level Dutch team rider Esmee Donkers and her Sir Donnerhall mare Chaina won the team championship test with 73.24% and placed second in the kur with 72.833% but her overall average was the highest for the gold medal. Carlijn Huberts and the KWPN stallion Cupido (by Daddy Cool) got silver, while Robin Bernoski and the Quint family's Velazquez (by Krack C) landed bronze. 
"I had a few mistakes today (in the kur), but overall she went really well," Donkers explained. "I thought the trot tour was better than yesterday. Chaina really did a super job. She proved that she can now do it faultfree and easily. It's a sensitive horse, but very obedient. My goal is the European Championship. I hope to be on better form this year than the years before and perform better. I'm working hard at it with my trainers Tineke Bartels and team coach Alex van Silfhout."
Neck to Neck Race in Small Tour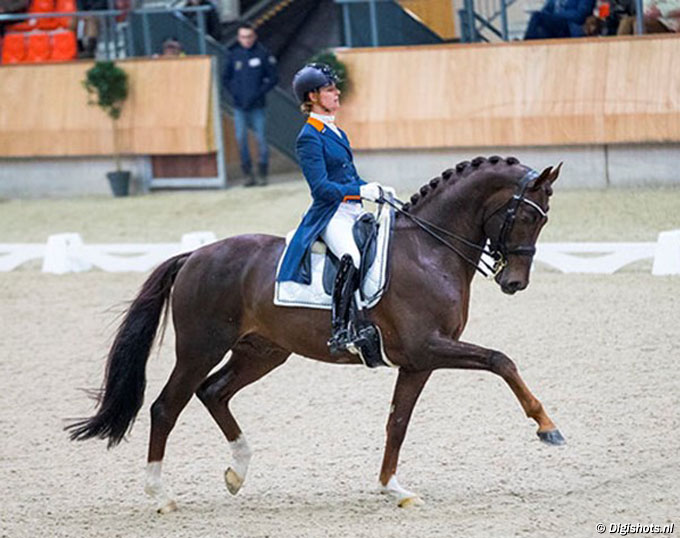 At small tour level, Adelinde Cornelissen achieved the highest overall average aboard the 8-year old KWPN bred Fleau de Baian (by Jazz x Ulft), the full brother of her top ride Parzival. The liver chestnut scored 73.14% to win the Prix St Georges, but was fourth in the freestyle with 72.833%. Yet, their average was the highest of all for the title. Mara de Vries and Farzana G (by Ampere) scored silver after placing third in the Prix St Georges (72.16%) and second in the Kur with 72.792%. Diederik van Silfhout and Scenario (by Sorento) finished with bronze after a second place in the Prix St Georges (72.60%) and a fifth in the Kur (72.792%).
"The first test went really well," Adelinde stated. "The kur could have been better. We didn't have any big mistakes, but I got a bit behind the music. Then you start listening to the music a bit too much and is the fine tuning slightly less, but I'm happy. He's very consistent. Now we are slowly training for Grand Prix and he'll be doing the 5-day character test to be KWPN approved. After that we'll see how we'll combine breeding with sport. He'll only be 8 in August, so I don't want to force it. We'll see how it goes. Maybe I'll take Fleau a few times for international small tour level to get some extra experience." When asked if he takes after Parzival, Adelinde replied: "He looks a lot like Parzival in his willingness to work and perseverance, but fortunately he's absolutely not spooky. He's much clearer in the head."
Nieuwenhuis In Charge of Under 25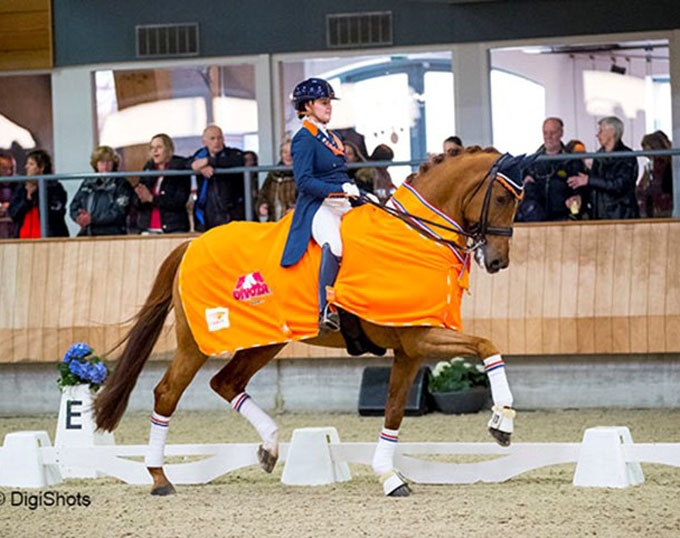 Jeanine Nieuwenhuis and her powerhouse TC Athene (by United) were on best form in Ermelo and won the two rounds for gold. They scored 73.29% in the Short Grand Prix and 75.542% in the Kur. Team mate Maxime van der Vlist and Bailey (by Negro) earned silver, while Carlijn Huberts and Watoeshi (by Rousseau) slotted in third overall. 
"I entered the ring and thought 'showtime'. It was such a rush and I'm very happy," said a stoked Nieuwenhuis, who trains with the owner of her horse Tim Coomans. "Athene was super fanatic and then his incredible motor switches on. The tiniest fine-tuning is hard then and I had my hands full, but he was faultfree in all the movements. He has improved much since last year. This year I'm really going for the European Under 25 Championships and then we'll see."
Rising Star Gets Grand Prix Gold
At big tour level, Diederik van Silfhout decided that the Dutch Indoor Championships were the ideal opportunity to test the mettle of his brand new Grand Prix rider Expression, a 9-year old KWPN licensed stallion by Vivaldi x Vincent. The bright bay stallion had never done a Grand Prix test in his life before. in Ermelo, he won the Grand Prix with 74.42% and the freestyle with 77.750%. Van Silfhout rode to Arlando's music as Expression does not yet have his own music. Adelinde Cornelissen and her home bred Zephyr (by Jazz) finished with silver after posting scores of 72,75% and 74,625%. Under 25 rider Denise Nekeman opted to do the senior tour on Boston (by Johnson) and it paid off. She landed on the podium with bronze after receiving 71,92% and 72.750% from the judges.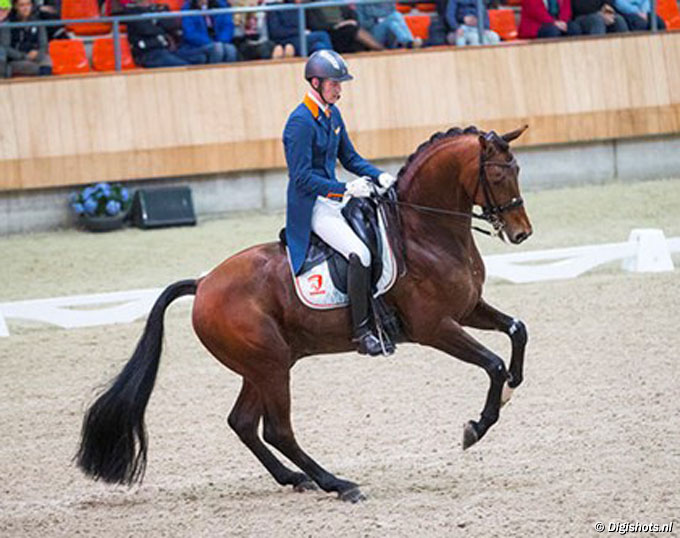 "Expression can do everything, he has no weaknesses. The only thing that needs to improve right now is that he gets more mileage and strength to keep pushing at it through the entire test," said experienced Dutch team rider Van Silfhout. "When I saw how he kept motoring on to the end in the freestyle, than I realized he's even further than I thought. Yesterday after the test I thought, 'yes this is his level'. Today I felt there was even more in the tank, which made me very happy. Yesterday he was still searching in the piaffe, but today I could collect him more and he kept on piaffing. My goal is the World Championships in Tryon in September, but the most important thing is that Expression is fit and happy. He's only turning 9 this year. Now he'll stay home for a few months and then I think we'll do Roosendaal or Nieuw en St. Joosland, and after that Rotterdam and the Dutch Championships. If he's fit then and he's good enough, than fine, but if we think it's too early for him than we'll keep him home. His big advantage is that he's not spooky or impressed by anything."
Photos © Digishots
Results - 2018 Dutch Indoor Dressage Championships - Ermelo
Junior Riders
1. Kimberly Pap – Victory (v. Jazz), 72,467% (69,85% - 75,083)
2. Annelotte Felix - Amos (v. Flemmingh), 68,564% (66,46% - 70,667)
3. Florence Siemer  - Zidane (v. Inspekteur), 68,488% (64,85% - 72,125%)
Young Riders
1. Esmee Donkers  - Chaina (v. Sir Donnerhall), 73,037% (73,24% - 72,833%)
2. Carlijn Huberts - Cupido (v. Daddy Cool), 72,624% (70,83% - 74,417%)
3. Robin Bernoski - Velazquez (v. Krack C), 70,274% (68,63% - 71,917%)
Small Tour
1. Adelinde Cornelissen  - Fleau de Baian - 73,14 - 72,833
2. Mara de Vries  - Farzana G  - 72.16 - 73.792
3. Diederik van Silfhout - Scenario  - 72,60 - 72.792
Under 25
1. Jeanine Nieuwenhuis  - TC Athene (v. United), 74,416% (73,29% - 75,542%)
2. Maxime van der Vlist  - Bailey (v. Negro), 72,233% (70,09% - 74,375%)
3. Carlijn Huberts  - Watoeshi (v. Rousseau), 69,808% (67,99% - 71,625%)
Big Tour
1. Diederik van Silfhout  - Expression (v. Vivaldi), 76,085% (74,42% - 77,750%)
2. Adelinde Cornelissen  - Zephyr (v. Jazz), 73,688% (72,75% - 74,625%)
3. Denise Nekeman - Bosten STH (v. Johnson), 72,335% (71,92% - 72.750%)
Related Links
Van Peperstraten, De Koeyer, Van Silfhout, Nekeman, Van der Putten Win 2017 Dutch Indoor Championships
Kooijman and Van Baalen Win 2016 Dutch Indoor Dressage Championships
Van Liere and Van Silfhout Win 2015 Dutch Indoor Dressage Championships
Heijkoop and Van Baalen Win the 2014 Dutch Indoor Dressage Championships
Gal and Maas Win the 2013 Dutch Indoor Dressage Championships
Witte-Vrees and Maas Dominate 2012 Dutch Indoor Dressage Championships
Minderhoud and Maas Grab the Titles at the 2011 Dutch Indoor Dressage Championships
Krooswijk, Witte-Vrees and Haazen, 2010 Dutch Indoor Dressage Champions
Edward Gal and Totilas Win 2009 Dutch Indoor Dressage Championships 
Maas and Van Grunsven, 2008 Dutch Indoor Champions
Hanzon and Cornelissen In the Blue at 2007 Dutch Indoor Championships
Schulkens, Beckers, Vrees and Van Lieren, 2005 Dutch Indoor Champions
Schulkens, Haazen, Hanzon and Callaghan 2003 Dutch Indoor Champions