Interview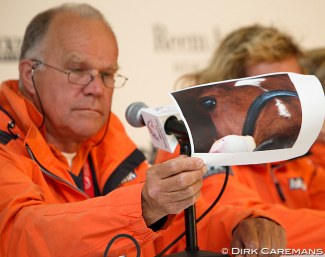 In a fairly tell-all interview with Chris Hector's Australian Horse Magazine, former Dutch team veterinarian Jan Greve lays bare the mentality problems in the Dutch dressage world that leads to horses getting injured faster and his resignation after 40 years on the job.
One month ago, the 70-year old Greve announced his resignation as Dutch dressage team veterinarian. Greve had been active as team veterinarian for almost 40 years and covered all three Olympic disciplines for the Dutch Equestrian Federation, beginning with eventing in the late 1970s. 
Greve became the dressage team vet in the 2000s but resigned from that post right before the 2012 Olympics in London due to ongoing dispute with dressage team trainer  at the time, Sjef Janssen. Greve's colleague Arie Hoogendoorn took over the medical care of the senior dressage horses, and Jan returned after London, when Janssen's contract as team trainer expired. 
Another incident at the 2017 Dutch Championships where Greve's expert opinion was ignored was the final straw. The vet handed in his resignation for the beginning of the new year.
Greve in The Horse Magazine
Dutch equestrian journalist Jacob Melissen conducted this interview with Jan Greve. The English version was printed in The Horse Magazine. 
Here are a few of the most interesting statements that Greve made:
...on his sudden resignation before the 2012 Olympics
"In the run-up to London (2012) a conflict arose with national coach Sjef Janssen. The plan I had set out for Parzival apparently wasn't fast enough for him, so he arranged it himself without considering my professional opinion. At moments like that, I just think 'go ahead and do it yourself'. Quitting was very easy at that time. I can and will take responsibility for my own work, but not for that of others. Especially not when I have not been heard in advance."
... on Dutch team potential horses going lame right before a Championship
"The dressage world is very conservative, and too little thought is given to the things they do, because: 'we always do it like that'. Before a dressage horse comes out of the box to work, all four of the legs are already bandaged (as if they were to do I don't know what) and in my opinion that is overdone. Similarly the last training before the start of the test is overdone, doubly hard, rather than keeping the horse mentally and physically fit and happy."
"I would like to have had more influence on the management. If you see that after all these years nothing has changed, that also is part of the decision to quit. For example, I have often tried to indicate on the forecourt that they do not have to go the extra mile, just to use the warming up time to warm up and loosen up the body, and not keep repeating certain movements of the test."
"Dressage riders in general do not have self-confidence, they want to see confirmed what they already know. They do far too much. I therefore dare to say that most of the medals have been lost on the warming up arena."
... on the difference between show jumping and dressage horses
"A dressage rider wants to have a horse that does not think with them. They want a horse that is slavish, and a horse that is fine with completing the same studied routine every day. Every move is a controlled one, even the moves of the rider. If you have a horse that, despite that regime, is still fresh and cheerful, then you are king. Totilas could do that like no other, but Parzival was touching to see at the European Championships at Windsor, just like Scandic at the European Championships in Rotterdam. But in general the frivolility is gone. The routine is done again and again and again. Almost as if the rider mistrusts the horse."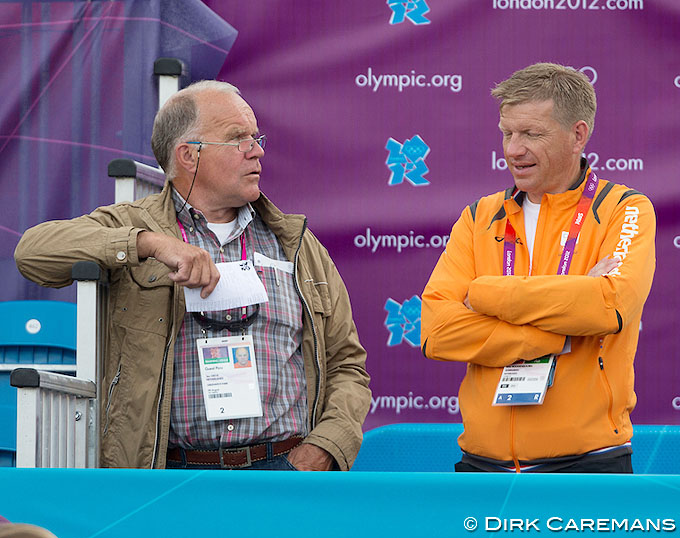 "To practice a piaffe 50 times until it goes well, and then they do it again just to prove it to themselves. By the time the horse enters the ring it doesn't work any more. Makes sense, right? In equestrian sport, it is all about making the horses do things that we like. So you have to motivate a dressage horse to do the things you want him to do. That is not possible with money or with food. You can not really force a horse. Like my friend David Hopper says: 'You have to outsmart them!'"
... on the state of dressage. Is it doing well?
"No, of course not. But that's up to the discipline itself, because they do not want to change anything. The joy of watching is gone, right? There's no joy anymore, it's all discipline and more discipline. Look at that fantastically trotting horse make a small mis-step. Immediately rewarded with a five. I know only a few riders where you can see that their horses are enjoying their job. Allow them to relax after ten minutes and then do something different."
"For too many riders, the horse has become a machine. It is no longer a companion, and that's how they train them. From the first step to the last. Just look at the competitions. The rider is on the horse and then at the end of the rope a man who walking around as if he has a dog on the line. It's all fear. They don't dare to give the horse freedom. A horse does not walk away, so the more firmly you hold him, the sooner he tries to escape. In many cases dressage is dominated by the rider's fear of the horse. That is also the reason why a prize ceremony after a dressage competition often turns into a chaos. In a controlled world, the horses take every opportunity to throw a party. The pinnacle of control and trust is for me Jean Francois Pignon. Sixteen horses loose in the ring and they all do what he indicates through body language. Goosebumps!"
...on his resignation now
"I tried to be as involved in dressage as I was in eventing and show jumping. Initially I was met with a lot of suspicion as a result of loose lips in the past. That slowly faded, but it never completely went away, despite the cooperation of Marc Suls, Jef DeSmedt, Jacques Maree and Veronique Swagemaekers to name a few."
"The contact with the current national coach (Rien van der Schaft) is minimal, so I am always behind instead of being able to act proactively. It is a game that you must be willing and able to play with each other. What is my role at competitions? If you find that the added value you think you have, has faded away, it's time to stop. The moment comes where you think: what am I doing it for? At home we have a company with eight people and a few hundred horses to manage, including stallions. No one has thrown a clog at me – but IT is no longer there ."
... on the major flaw dressage riders have
"The majority have little empathy. They do the same thing every day, with a dulling of the senses as a result. Provide more variety in a training program, with stretching exercises, cavalletti work, gallop training and strength exercises, and make sure it does not get boring. Epke Zonderland (a Dutch Olympian gymnast) will also train more varied than just practice with the horizontal bar. The only thing you can do is to make sure your horse enjoys the things you ask of him. Many dressage riders do not realize that a horse listens the most to the person who meddles with his body the least. They don't believe it, but it's true. 'Das Gymnasium des Pferdes' (the classic by Gustav Steinbrecht) is a very horse-friendly book, written by people who understood horses. They knew how it worked. It is just as logical as water running down the hill and never the other way round. Mother nature rules".
Jan Greve talked about much more. Read the full interview on The Horse Magazine.
Photos © Dirk Caremans
Related Links
Jan Greve Resigns as Dutch Team Veterinarian
Jan Greve Returns as Dutch Dressage Team Veterinarian
Greve Resigns as Dutch Team Vet Due to Conflict with Sjef Janssen