Denmark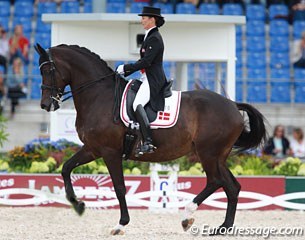 It will be tissues at the ready when one of the most familiar horses on the Florida dressage scene retires on Friday night 9 February 2018 during freestyle night at the 2018 CDI 5* in Wellington, Florida. With 95 FEI results to her name, Janne Rumbough's mare My Lady has been a prolific performer under Denmark's Mikala Münter since the power duo since paired up in early 2012.
She will say her final farewell under the lights in the break of the Friday Night Stars CDI5* Grand Prix Freestyle; a fitting setting for the now 18-year-old Danish warmblood who won the same class in 2016 with over 79%.
Together the pair represented Denmark at the FEI World Cup Finals in Lyon and Las Vegas, and were on the nation's team at the FEI World Equestrian Games in Caen, as well as the European Championships in Aachen.
Mikala first crossed paths with the mare when a client sent her a video of a horse she had trained to grand prix but could no longer afford to keep.
"It's funny actually," recalled Mikala. "A girl I used to train in Denmark, Mette Rafn, sent me this video and asked if I knew anyone who would be interested in buying her. I looked at that face and I was completely in love. But I had no luck in getting anyone else to help me buy her.
"Then one day, some time later, I showed the video to Janne — who was a rider and not a dressage owner or sponsor then — just for fun and she said, 'Oh my god, I have to have that horse!' The plan was that we would share her and we'd both ride her, but very quickly after we got her I won the five-star grand prix special at the World Dressage Masters at Jim Brandon, and Janne said, 'OK, you'd better keep the ride,' — as it was going a little better than we had predicted!"
My Lady was bred by Marlene Lindholm and born in her native Denmark. She is by Michellino, prolific producer of talented dressage horses, including Mistral Hojris, Elmegardens Marquis, Michigan, Smeyers Molberg and Mane Stream Hotmail. My Lady was the only foal for her dam, Marion, who was by Ritterstern.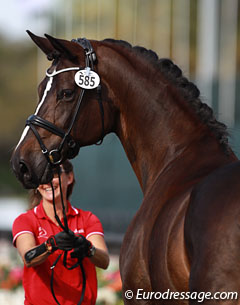 My Lady has shown successfully in the international dressage arena since 2012. She has been one of the most successful horses at the Adequan® Global Dressage Festival since the show's inception in 2013, accruing a staggering 50 ribbons at grand prix level. Her real trump card was the freestyle class.
Mikala, who is based at Bell Tower Farm in Wellington, said: "She loved to do the freestyle — as soon as the music came on she turned into a dancing queen. It was like she listened to the music and wanted to follow the rhythm. It felt like she said, 'I got this — just hang on and let me do my job.'  When I saw the movie 'Burlesque', I knew we should use that music and she clicked with it. I think the freestyle is what people will remember us for."
Indeed, their freestyle performances garnered over 75% eleven times in their illustrious international career. Their career high score was 79.9%, which won them the FEI World Cup qualifier in Saugerties, NY, in September 2015.
But things were not always plain sailing with this hot-headed mare.
"She ran off with me a couple of times in the arena," recalled Mikala. "One was in Fritzens in Austria; in the test she took the bit and ran, and I knew I just had to give the rein. Then, the next day, she won the consolation class. And in one of the last classes we did together at Global, she ran off in the prize-giving when she got scared by a flag. You also can't lead her without a chain on, otherwise she just walks her own way, but with one on, she doesn't pull at all. She knows exactly how strong she is. But that's her personality and we learned to work around her and with her, but she's really always in charge. She's an alpha mare and has an opinion about everything, but she gave me her heart in the ring."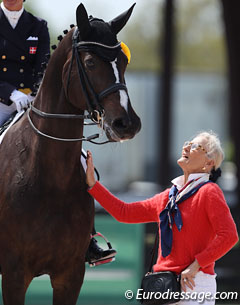 Janne, who at 73 is still an active dressage competitor, added: "To have My Lady and Mikala in top dressage sports has been amazing and wonderful to be part of. They have always been so beautiful to watch together."
Spectators expecting My Lady to perform her signature freestyle routine will have to adjust their expectations as the mare is pregnant and due a foal by Vitalis in three months. Her ceremony will include video clips from her ADGF 5* freestyle victory put together by the man behind her iconic freestyle, Gary Patterson, and Mikala will present her in-hand, for the final time.
"She is big and fat and pregnant right now, but My Lady is a once in a lifetime horse and I am forever thankful to have had the opportunity to ride her," added Mikala, 49. "She's done everything for us and we have to know when the time is right to stop. We always wanted to have a foal but didn't want to do embryo transfer while she was competing, so we decided she could carry her own foal. Friday is definitely going to be emotional, but we are going to try to make it a fun event. It's been an amazing journey and I'm forever thankful to Janne and Lady. And for sure I am going to cry!"
by Alice Collins for GDF - Photos © Astrid Appels
Related Links
Mikala Munter and Janne Rumbough Retire My Lady from Sport
New Freestyle Music Tailored to Suit My Lady and Mikala Munter
Gundersen and My Lady Near 80% Mark to Win 5* Kur at 2016 CDI Wellington
Gundersen and My Lady Sweep World Cup Qualifier at 2015 CDI-W Devon
Gundersen Earns Another Danish Victory in Grand Prix Special at 2013 CDI Wellington