KWPN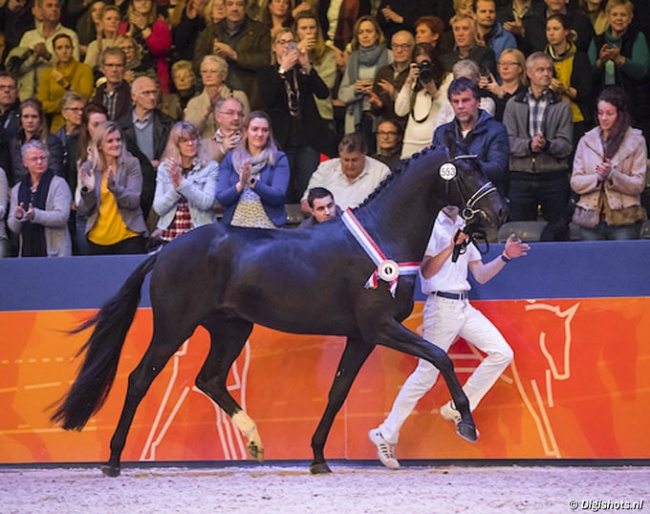 The black Kremlin MD (by Governor x Rousseau) has been named the champion of the 2018 KWPN Stallion Licensing in 's Hertogenbosch, The Netherlands, on Saturday 3 February 2018.
The KWPN Stallion Licensing committee approved 53 dressage bred colts for the Stallion Performance Testing and picked 8 colts for the premium ring. 
The champion's title went to Kremlin MD, who is sired by Governor out of star mare Faresia (by Rousseau). Bred by Marjo Dinnissen and owned by Louis and Gabrielle Röst, Kremlin MD impressed with his beauty, movement and self carriage according to the licensing committee
Kadans (by Franklin out of Ciolita II (by Jazz) was named reserve licensing champion. Kadans is bred by G. Rijper and owned by Brood farm 't Centrum. 
Kostolany B (by Toto Jr x Jazz) finished third in the premium ring. He is bred by J. van Boven and owned by Rob van Puijenbroek.
Kojack (by Arlando x Uphill), bred by A. Both and owned by J. van der Meulen ranked fourth, followed by Knock Out (by Expression x Ferro), bred by S. Bloem and owned by R. Kauffeld-Jansen. Places six to eight in the premium ring were allocated to Kaiman (by Dark Pleasure x Gribaldi, bred by J. Naber and owned by J. Naber), Kevin (by Dream Boy x Kennedy, bred by H. Melis and owned by M. Heilig) and Kenzo (by Ferguson x Vivaldi, bred by T. Wilaras and owned by Leander de Heer).
Private Sales Tamper with KSS Success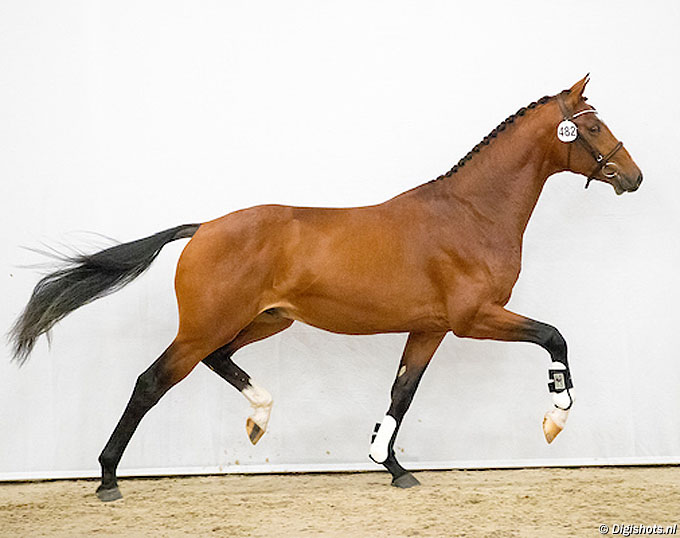 Throughout the licensing week and also after the premium ring and champion's title allocation, several of the horses sold in private deals. Danish Andreas Helgstrand cleared the table and bought the licensing champion Kremlin MD, reserve champion Kadans, and fifth placed premium stallion Knock Out. Kaiman's owner J. Naber sold his stallion to Eugene Reesink and investor Jan Pieter Dalsem, while Kevin was purchased by Koen Brinkman, Tim Coomans and Jacques Maree. 
These private sales of course resulted in mediocre prices achieved at the official KWPN Select Sale auction, which followed the licensing. With the majority of the interesting stallions already sold in private deals, KWPN could not even break the 100,000 euro barrier!
Kibo, KSS Price Highlight
The top selling stallion at the KWPN Select Sale was Kibo (by Totilas x Jazz). Broere stud, which recently came into some money selling their Grand Prix horse Westpoint through Andreas Helgstrand, purchased Kibo for 75,000 euro.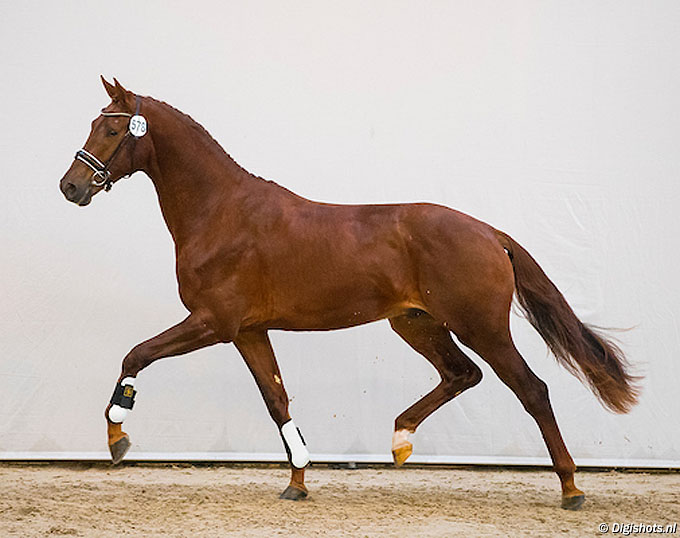 Klasie (by El Capone x Krack C) sold for 60,000 euro to the U.S.A., but will stay in training at stable Laarakkers in The Netherlands.
Kavallo (by Desperado) sold for 56,000 euro, while Knappe Jonge (by Ferguson) fetched 50,000 euro and will move to the U.S.A. Kratos de Jeu (by Ekwador x Voice) will stay in Holland for 32,000 euro.
The non licensed Krack E (by Ferdeaux) was the most expensive not approved stallion. He sold for 46,000 euro. 
The average price for a stallion was almost 35,000 euro. 
Photos © LL-foto
Related Links
Fifty-Three Colts Approved at 2018 KWPN Stallion Licensing
Twenty-Eight Colts Accepted at 2018 KWPN Stallion Licensing
Governor, Top Producer for 2018 KWPN Stallion Licensing Pre-Selection Days
Previous Champions
Jameson, Champion of the 2017 KWPN Stallion Licensing 
Igor (Indian Rock), Champion of the 2016 KWPN Stallion Licensing 
Handsome O, Champion of the 2015 KWPN Stallion Licensing
Glamourdale, Champion of the 2014 KWPN Stallion Licensing
Fierce S (Franklin), Champion of the 2013 KWPN Stallion Licensing
Etoine, Champion of the 2012 KWPN Stallion Licensing
Diebrecht, Champion of the 2011 KWPN Stallion Licensing
Cover Story, Champion of the 2010 KWPN Stallion Licensing
Bordeaux, Champion of the 2009 KWPN Stallion Licensing
Ajong (aka Ampere), Champion of the 2008 KWPN Stallion Licensing
Zagreb (aka Blue Hors Zack), Champion of the 2007 KWPN Stallion Licensing 
Wamberto, Champion of the 2006 KWPN Stallion Licensing
Johnson, Champion of the 2005 KWPN Stallion Licensing
Ustinov and Uptown, 2004 KWPN Stallion Licensing Champions
Tornado, Champion of the 2003 KWPN Stallion Licensing
Symfonie, 2002 KWPN Licensing Champion
First KWPN Select Sale at 2001 KWPN Stallion Licensing
Paddo, 2000 KWPN Stallion Licensing Champion