KWPN Breeding News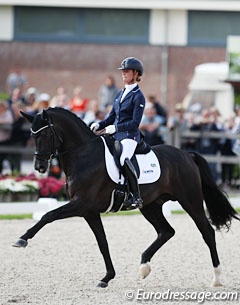 The pre-selection days for the 2018 KWPN Stallion Licensing are about to begin on Tuesday 28 November 2017. No less than 607 2.5 year old colts have been entered for these days.
A massive interest by stallion owners has been show for the 2018 KWPN Stallion Licensing pre-selection days: 277 show jumping colts and 329 dressage colts have been entered alongst 11 Guelderlander bred colts. 
Dutch warmblood stallions from the G-year (born 2011) are presenting their first crop of offspring. The top producing stallion with the most sons entered for the pre-selection days is Governor (by Totilas x Jazz x Ulft). Twenty-six of his sons will appear in Ermelo to get a pass to participate in the licensing. The Belgian warmblood Cornet Obolensky is the top producer for the show jumper colts with 17 offspring. 
The second best producing stallion for the pre-selection is Ferdeaux (by Bordeaux x Ferro) with 16 offspring and the Hanoverian Toto Jr (by Totilas x Desperados) with 15 offspring. Both Franklin and Negro both have 13 sons registered, Glamourdale has 12, Everdale 11, and El Capone 10. 
The pre-selection of the dressage colts will be from 5 - 9 December 2017 in Ermelo, The Netherlands. The late pre-selection day for stallions that missed their date for unforeseen circumstances is on 16 December 2017.
View the list of entered stallions
Photo © Astrid Appels
Related Links
Jameson, Champion of the 2017 KWPN Stallion Licensing 
Igor (Indian Rock), Champion of the 2016 KWPN Stallion Licensing 
Handsome O, Champion of the 2015 KWPN Stallion Licensing
Glamourdale, Champion of the 2014 KWPN Stallion Licensing
Fierce S (Franklin), Champion of the 2013 KWPN Stallion Licensing
Etoine, Champion of the 2012 KWPN Stallion Licensing
Diebrecht, Champion of the 2011 KWPN Stallion Licensing
Cover Story, Champion of the 2010 KWPN Stallion Licensing
Bordeaux, Champion of the 2009 KWPN Stallion Licensing
Ajong (aka Ampere), Champion of the 2008 KWPN Stallion Licensing
Zagreb (aka Blue Hors Zack), Champion of the 2007 KWPN Stallion Licensing 
Wamberto, Champion of the 2006 KWPN Stallion Licensing
Johnson, Champion of the 2005 KWPN Stallion Licensing
Ustinov and Uptown, 2004 KWPN Stallion Licensing Champions
Tornado, Champion of the 2003 KWPN Stallion Licensing
Symfonie, 2002 KWPN Licensing Champion
First KWPN Select Sale at 2001 KWPN Stallion Licensing
Paddo, 2000 KWPN Stallion Licensing Champion