2018 CDN Wellington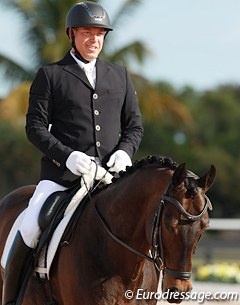 The 2018 Wellington show circuit kicked off last weekend 11 - 14 January 2018 with international classes and a World Cup qualifier in the main stadium. However, at the same time the first national tests of the season where held in the arenas behind the stadium and several new combinations made their entry.
Browsing over the score sheets nine interesting new pairs with euro connections were spotted over four days of competition. 
On Thursday 11 January 2018, the first big FEI class of the day was won by Scott Hassler aboard Leslie Malone's Diamo Gold (by Dimaggio x Ex Libris). The Oldenburg premium stallion sold to the U.S.A. in August 2013 and Hassler has been competing him at small tour level since 2016. The stallion had almost a year off from competition between July 2016 and June 2017. In the national Prix St Georges in Wellington on Thursday, they won the class with 69.485%.
In the same Prix St Georges, Christopher Hickey and Cecelia Stewart's 8-year old Danish warmblood Zackonik (by Zack x Romanov) made their come back after almost a year and a half away from the show ring. They scored 71.324%. Stewart acquired the dark bay mare, who is a full sister of Edward Gal's Zonik, in Denmark in February 2015 when she was a 5-year old.
Rassolini FRH, well known in Europe for winning the 2010 Nurnberger Burgpokal finals, has a new rider onboard after his Grand Prix career in the U.S.A. with 2012 U.S. team Olympian Jan Ebeling. Acquired by Ann Romney, Beth Meyer and Amy Ebeling as the successor for Olympic mount Rafalca, the gorgeous liver chestnut stallion was unable to follow in the footsteps of Rafalca, capturing a spot on a U.S. championship team. Since his international Grand Prix debut in 2014 the stallion has not been able to crack the 70% marker in a CDI Grand Prix class. Ebeling last competed him at the CDI Del Mar in April 2017. The now 15-year old stallion has been sold to a new rider, Christian Simonson, from Ventura, California. The 15-year old junior rider competed at the 2016 and 2017 North American Junior Riders Championships on the 14-year old Hanoverian bred Herzkonig (by His Highness x Weltmeyer) and has now stepped up to small tour level with Rassolini. In Wellington he finished 7th with 67.059%.
British Susan Pape made her show debut aboard Leslie Malone's newest acquisition Eclectisch, the 9-year old Dutch warmblood stallion by Zenon x Olivi. The horse was purchased by Malone's Harmony Sport Horses in November for Pape to ride. The pair finished 9th in the Thursday Prix St Georges with 66.618% and second in Sunday's Intermediaire I with 72.941%.
U.S. 2012 Olympian Adrienne Lyle made a surprising show debut on Susan Dutta's 11-year old Oldenburg gelding Dimacci DC (by Dimaggio x Rubinstein). Susan competed the chestnut gelding herself at international small tour in Wellington in the spring of 2017, but now Lyle has taken over the ride. She produced the FEI high score of the weekend by winning Saturday's Prix St Georges with 76.618% and Sunday's Intermediaire I with 75.000%.
"he was a rockstar," said Lyle about Dimacci. "He's such a fun little powerhouse of a horse."
An interesting new pair was spotted on the starters' list but ended up scratching for Sunday's Intermediaire I: Canadian 2012 Olympian David Marcus on Sasha Cutter's 10-year old Belgian warmblood Illuster van de Kampert (by Spielberg x Contango). The dark bay gelding was acquired by Cutter's Nuvolari Holdings LLC in the summer of 2016 and the ride was originally allocated to the West coast based Shannon Peters. However, six months ago the Wellington, Florida based David Marcus got the ride on the gelding. 
At national Grand Prix level Adrienne Lyle made her Intermediaire II show debut with the 11-year old Oldenburg mare Horizon (by Hotline x Don Schufro), the 2016 U.S. Developing Prix St Georges Horse Champion. Betsy Juliano's Horizon was briefly successful at international small tour level in Wellington in 2017 until March 2017 when her show career got stalled as the mare tested positive for ractopamine. Lyle was able to prove food contamination but she did not compete Horizon again that year. For 2018 Grand Prix is on the programme and Lyle and Horizon were second in the Intermediaire II with 70.588%. The next day they rode the Inter II again and scored 72.647%.
Canadian born American Ashley Holzer won the Intermediaire II with 72.647% aboard the 12-year old Swedish warmblood stallion I Do Kiss (by French Kiss x Donnerfly). The stallion was initially competed by Swedish Cecilia Bergakra Berglund in the children's division (2015) and at junior rider's level in 2016. In the summer of 2017 he sold to Luxembourg and now has moved across the continent. 
Cesar Parra and GK horses' 13-year old Westfalian bred Lindner (by Laudabilis x Beltain) were third with 66.471%. The flashy chestnut has been with Parra in the U.S.A. for almost nine years. The young horse was competed in the lower levels in 2011 and 2012 and then stayed home until July 2016 to compete lightly at national small tour leve. Lindner made his Inter II debut in April 2017. Lindner was the 2009 Westfalian Young Horse Champion in the 4-year old division under Demona Engelbrecht.
Photos © Lily Forado
Related Links
Scott and Susanne Hassler Find Competitive Edge on New FEI Stars
Diamo Gold Sold to the U.S.A
Chris Hickey Goes Indepedent, Resigns as Head Trainer of Havensafe Farm
Rassolini Sold to the United States, Secured for Jan Ebeling
Eclectisch Sold to Harmony Sport Horses
Three Rising Grand Prix Horses Find Their Way to the U.S.A.
Cargill Admits to Trace Amounts of Ractopamine in Soothing Pink Supplement
Horizon and Don Principe Test Positive to Banned Substance Ractopamine
Lyle and Horizon Earn Two Small Tour Wins at 2017 CDI Wellington
Habanero CWS, Desario, Horizon Win Title at 2016 U.S. Young & Developing Horse