Bits 'n Pieces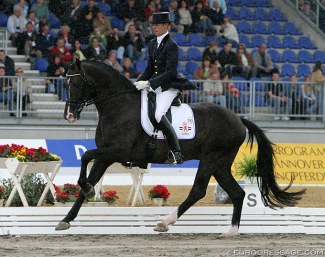 Horses.nl reported that the 20-year old KWPN licensed stallion Rhodium (by Ferro x Ramiro x Voltaire) will return back to The Netherlands after a four year stay in Scotland for breeding. The black stallion has lost all popularity with the British and Scottish audience. "The last two years he only bred to five to six mares a year. Breeders here prefer German blood," said Ben Wentink who stood Rhodium in Scotland. Rhodium is owned by the Fokker family.
Irene van Seggelen, a Dutch small tour rider and partner of Dutch equestrian photographer Arnd Bronkhorst, fractured two of her neck vertebrae and broke her front tooth in a mountain bike accident. The Garderen based rider has to stay quiet with her neck in a brace for the next few weeks. Irene's top competition horse at the moment is Casey-Olivia (by Vivaldi) which she competes at national Inter I level.
Gerda Verhaar Eeuwijk, former member of the KWPN board of directors and chair of the directors of the KWPN regional brand Gelderland, suddenly passed away on 8 January 2018. She was 68 years old.
Dieter Ludwig reported the passing of Günther Festerling. The 86-year old died on 6 January 2018. From 1972 till 1976 Festerling was the director of the riding school that was linked to the Warendorf state Stud.  Afterwards he led the Bavarian riding and driving school. In 1980 he set up his own independent training business. He became a recipient of the German Rider Cross in gold in 1997.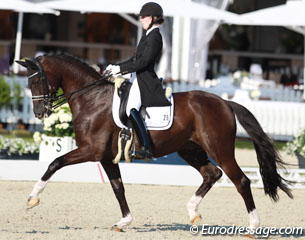 German Grand Prix rider Svenja Peper got married and now goes by the last name Peper-Oestmann. Aboard the 15-year old Hanoverian gelding Disneyworld (by De Niro x Walt Disney) , the 27-year old Peper has been competing at Grand Prix level, first as an Under 25 rider and now as a senior, since 2014. 
Dutch Grand Prix rider Jean René Luijmes has received the ride on the 7-year old Dutch warmblood licensed stallion Grappa (by Fidertanz x Special D x De Niro).  The black is owned by breeder J. Woudsma in partnership with stallion keeper Aris van Manen. He was ridden by Adelinde Cornelissen but she handed over the ride as she did not have enough time to fully focus on Grappa in combination with her other stallions.
The 13-year old Dutch Welsh pony Mystery Dancer, who was submitted to the B-squad under Milou Dees, has been sold to Dutch FEI pony rider Isabelle Harbers. Dees has made the transition to junior riders' level on Francesco (by Florencio), while Harbers already gained mileage at FEI pony level on Don Carino du Bois.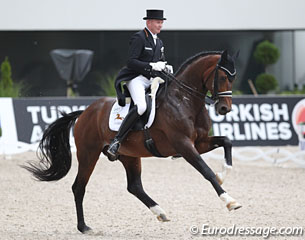 The Holsteiner recently approved two more dressage stallions with non-Holsteiner bloodlines for their breeding program. Hubertus Schmidt's small tour horse, the Westfalian stallion Escolar (by Estobar), got approved in late 2017. At the Holsteiner licensing in Elmshorn this month, they also accepted Kai Gerken's German Sport Horse bred First Kiss (by Furstenball x Sandro Hit x Royal Dance).
Edwin and Arlette Kohl of Gestut Peterhof have given Norwegian Paralympian Anne Cecilie Ore a new horse to ride. The 1996 Atlanta Paralympic champion has received the ride on the 6-year old home bred Zardin Jr (by Zardin Firfod). The Grade III rider is blind since youth but did not let her disability distract her from shining in life. She is a certified physiotherapist and treats the horses at Peterhof. The 39-year old Ore lives with her partner Stephanie Hegemann near Cologne, Germany.