2017 VSN Trophy Finals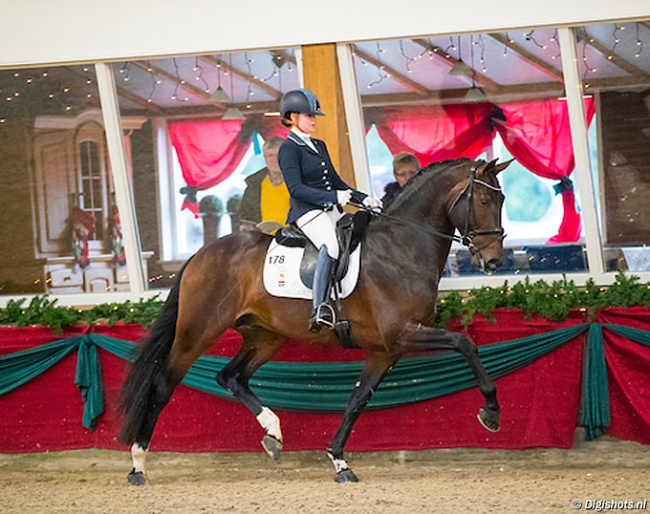 The 3-year old Dutch warmblood Joop! TC became the winner of the 2017 VSN Trophy Finals held in Kootwijkerbroek, The Netherlands, on 27 December 2017. This is fourth time in fourteen years that a Tim Coomans' owned horse has won the Finals.
The VSN Trophy Finals a dressage talent spotting competition for 3-year olds with a qualification round and a finals. A group of 27 horses competed in the Finals on 29 December 2017. The judging panel this year included father and son Alex and Diederik van Silfhout with Diederik test riding the five highest scoring horses of the first round.
Presented by young rider Jeanine Nieuwenhuis, the dark bay stallion Joop! TC (by Ravel x Krack C) scored the second highest mark of 43 points in the first round and got the highest rideability and potential score (9.5 points) from test rider Diederik van Silfhout. Bred and owned by Tim Coomans, Joop! TC scored a winning total of 52.5 points. 
Renate van Vliet became the runner-up aboard Johnny Depp, a Bordeaux gelding who was originally named Jacko Bordeaux. The pair scored a winning 43.5 points in the first round and got 8.5 from Van Silfhout in the Finals. With a total of 52 points he finished second.
Theo Hanzon and JFK (by Forty x Zhivago) landed third place after scoring 42.5 points in round one and 8.0 from the test rider. 
Results - 2017 VSN Trophy Finals
1. Joop (by Ravel) - 52.5
2. Johnny Depp (by Bordeaux) - 52.0
3. JFK (by Forty) - 50.5
4. Jengowaard (by Florencio) - 40.5
4. Jiolympia (by Sezuan) - 40.5
4. Joe H (by Zatchmo) - 40.5
7. Jindy TC (by Ferdeaux) - 40.0
8. Alive and Kicking (by All at Once) - 39.5
8. Jackpot ACB (by Dream Boy - 39.5
10. Jaguar Utopia (by Lord Leatherdale) - 38.0
10. Jappeloup (by All at Once) - 38.0
10. Joint Venture VE (by Everdale) - 38.0
13. Juan Tango B (by Don Tango B) - 37.5
13. Junanda (by El Capone) - 37.5
15. Jinijke (by Ampere) - 37.0
15. Jackpot (by El Capone) - 37.0
15. James Dean D&E (by Charmeur) - 37.0
15. Jolo H (by Charmeur) - 37.0
19. Jacky JS (by El Capone) - 36.5
20. Jersey Shore (by Rock Forever) - 36.0
20. Jagger (by Ferdinand) - 36.0
20. July's Dream (by Dream Boy) - 36.0
23. Jinte (by Don Tango B) - 35.5
23. Jupiler (by Bordeaux) - 35.5
25. Just Me (by Everdale) - 35.0
26. Julius Caesar (by For Romance) - 34.5
27. Jayden HB (by United) 34.0
Related Links
Imposant W Wins 2016 VSN Trophy Finals
Hannelinde TC Wins 2015 VSN Trophy Finals 
Glamour Wins 2015 VSN Trophy Finals
Hexagons Fusion Wins 2014 VSN Trophy Finals
Atomic Wins 2013 VSN Trophy Finals
TC Dolly Wins 2012 VSN Trophy Finals
TC Celanique Wins 2011 VSN Trophy
Chinook Wins 2010 VWF Dressage Cup for 3-year olds
Bretton Woods, Winner of the 2010 VSN Trophy Finals
Annerijke Wins 2009 VSN Trophy
Zaragoza Wins 2008 VSN Trophy
Game Boy Wins 2004 VSN Trophy