Trakehner Breeding News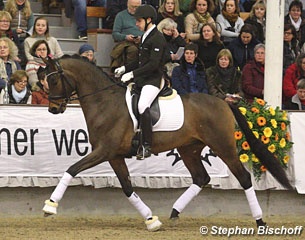 The 2016 Trakehner Licensing champion His Moment has officially returned in new ownership. A part of the original owners' group that presented the stallion at licensing have taken the stallion back after his fertility turned out to be questionable.
His Moment is bred by Christian Röhl and is by Millennium x Le Rouge x Tivano.
He was originally purchased at the foal auction in Hanover in 2014 by a consortium of 5 parties, including Röhl, Bernard Langels and Donatus von Hessen. They sold the stallion for 200,000 euro to Andreas Helgstrand at the Trakehner Stallion Licensing Auction. 
His Moment moved to Denmark but his semen quality was very poor and Helgstrand decided to return the stallion. The Trakehner society negotiated a transition deal and His Moment moved to Mario von Depka's Gut Lonken, where the Hanover university clinic could test the stallion's semen regularly.
Co-owner Bernhard Langels has now confirmed that the stallion has officially returned in his ownership and that the bay will be prepared for a sport career instead. In agreement with breeder Röhl, His Moment will be doing the stallion sport test in February 2018. 
The new, old owners say that as soon as His Moment has completed the test, "nothing will stand in his way to return to breeding. We are looking forward to his first foal crop and we are expected three foals by him ourselves."
Photo © Stephan Bischoff
Related Link
His Moment Proclaimed Champion of the 2016 Trakehner Stallion Licensing