2017 French Young Horse Championships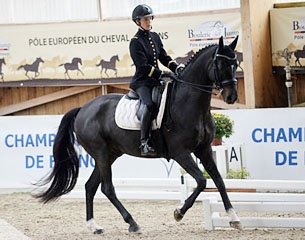 Cadre Noir rider Pauline Vanlandeghem steered the IFCE owned Sertorius de Rima to victory in the 2017 French Championships for 7-year old dressage horses. These Nationals were held in Le Mans, France, on 26 - 29 October 2017 and drew out a field of 18 competitors. This year was second time that the French Equestrian Federation hosted a national championship for 7-year olds.
The combinations competed in two classes, the preliminary and finals test, and the average score over two rounds determined the final ranking. 
Pauline Vanlandeghem and the Dutch warmblood registered Sertorius de Rima (by Sandro Hit x Voltaire) were undefeated in Le Mans, winning the preliminary round with 71.219% and 73.359% in the Finals' round. The black gelding Sertorius is the only Sandro Hit offspring born in France in 2010. Vanlandeghem has been riding him since he was a 3-year old but the horse has only been lightly competed. He did not come out in 2004 and 2005 and began showing as a 6-year old. The 7-year old title is the icing on the cake of a carefully planned career.
"I'm thrilled with the title, because Sertorius confirmed all the qualities we believe he has," said Vanlandeghem. "I have believed in him since the start. I love this small horse, his energy. He he an incredible winner's mentality and physically he is well developed. The fact that we waited has made this horse more relaxed. He didn't do the 7-year old tests at the beginning of the year because I thought he wasn't ready. He gets very hot in the ring but gets more relaxed along the way. He only made his debut at this level in August.
Vanlandeghem was thrilled with how Sertorius performed in Le Mans at the Nationals.
"He did a super job in trot and confirmed what he can do," said Pauline. "I could ride him more more in the canter work and didn't have to work so much. He still has good room for improvement."
The silver medal went to Belgian Larissa Pauluis on the Dutch warmblood stallion Barroso (by Bordeaux x Saros xx). The stallion, who supposedly sold at the 2017 Excellent Dressage Sales in Ermelo, is listed as owned by Pauluis. The pair scored 70.906% in the preliminary test and 72.103% in the Finals. 
The bronze medal went to Belgian Françoise Hologne-Joux on the French bred Portuguese sport horse Alquazar de Massa (by San Amour x Landim). The duo produced two consistent rounds of 69.656% and 70.897%.
Photo © Les Garennes
Results - 2017 French Championships for 7-year olds - Le Mans (top 10)
1. Pauline Vanlandeghem - Sertorius de Rima - 71.219% - 73.359% --- 72.289%
2. Larissa Pauluis - Barroso - 70.906% - 72.103% --- 71.504%
3. Françoise Hologne Joux - Alquazar de Massa - 69.656% - 70.897% --- 70.277%
4. Rebecca Rooke - Muschamp Rap 'n Roll - 70.562% - 69.872% --- 70.217%
5. Lena Thouvenin - Peregrina LTH Dressvalue - 68.750% - 69.077% --- 68.913%
6. Claire Gosselin - Aliz de Lauture - 67.969% - 69.615% --- 68.792%
7. Remy Issartel - Domino de Merlieux - 67.500% - 69.744% --- 68.622%
8. Sandrine Kahn Proux - Acappella Cramberry - 68.031% - 68.667% --- 68.349%
9. Christelle Marie - Athena - 67.281% - 68.385% --- 67.833%
10. France Touvron - Andiamo D'Heulecourt - 67.125% - 67.615% --- 67.370%
Related Links
Issartel and Evita Win 2016 French Championships for 7-Year Olds 
French Horses Selected for 2017 World Young Horse Championships
Barroso, Price Highlight of the 2017 Excellent Dressage Sales
Alquazar de Massa Acquired as FEI Hopeful for Francoise Hologne-Joux