Dutch Dressage News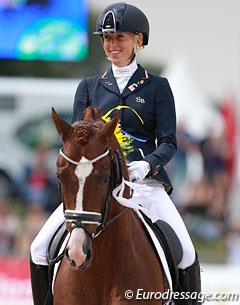 The Brouwer family, which includes dressage rider and mom Annemarie Brouwer, young horse medal winner Kirsten Brouwer and dad Benny, have left Platinum Stable in Riel, The Netherlands. They fear a pending banktrupcy of the Indonesian owned stable.
In an interview with De Hoefslag, Annemarie Brouwer explains that a whole string of duped persons are waiting to be paid by Platinum's owner Titan Wilaras. 
"He always kept us stringing along," Annemarie Brouwer told Hoefslag. "Each time we asked about unpaid bills, he would wire a small amount, but that was just a drop in the ocean. Or he would say, 'sell a horse'."
Hoefslag added that Wilaras is being accused of money laundering in Indonesia.
The Brouwer family relocated to Platinum Stable two years ago as their previous yard could no longer fit the amount of horses they had in training. "We had a good contact, even though we were warned for them back then; we decided to move anyway," said Brouwer.
Six months into their stay in Riel the bills were no longer getting paid. "My husband had power of attorney to do business in Holland for Platinum stable. In the end we paid from our pockets for Mr Wilaras. Then he would say, 'can you lend me some money' and we did."
The property is now rumoured to be for sale.
Wilaras' lawyer Roger Baltes replied to Hoefslag that the power of attorney for Benny Brouwer was ended on 24 October 2017 effective immediately, but there is no filing for banktrupcy.
Read the entire story on De Hoefslag (in Dutch)
Photo © Astrid Appels
Related Links
Brouwer Relocates to Platinum Stable
KWPN Stallion Estoril Passed Away
Tommie Visser Leaves Platinum Stable
Markus Gribbe to Join Platinum Stable's Team in Belgium