2017 CDN Ankum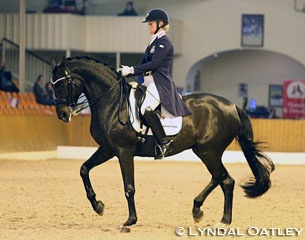 It was a debutant ball the weekend of 26 - 28 October 2017 with new pairs coming out successfully either at their show debut or a new level at national events in Germany, The Netherlands, and Austria. For instance, Olympians Lyndal Oatley, Hans Peter Minderhoud, Diederik van Silfhout made new starts on new rides.
Shooting Stars in Ankum
At the 2017 CDN Ankum, Australian Lyndal Oatley celebrated her come back to the show arena after a break from competition for one year and a half. Oatley last competed at the 2016 Olympic Games in Rio de Janeiro, but in Ankum she returned to the arena on her new acquisitation Elvive (by Tuschinski x Don Schufro), which the Oatley family bought in March 2017. The pair scored a winning 72.412% in the Prix St Georges, ahead of Birgitte Wittig on the 9-year old Hanoverian Bounty (by Bertoli W x Donnerhall) with 70.965%
Swedish shooting Grand Prix star Malin Nilsson, who came close last year to capturing a spot on the Swedish team for the Gothenburg Europeans, made her Grand Prix debut on Patricia Florin's 10-year old KWPN gelding Chupa Chup AS (by Sorento x Fidermark). The chesnut was previously competed in Sweden by Moa Grodinger, Mads Hendeliowitz, and at big tour level by Danish Jacob Noerby Soerensen.  The new pair scored a whopping 75.200% and beat Stella Charlott Roth on the 14-year old Oldenburg gelding Rubin Action (by Rohdiamant x Grundstein II) who scored 69.800%.
The same class included Isabel Freese-Bache on Christina Ulrich's St. Emilion. The Sandro Hit x Ehrenwort was previously competed by Dorothee Schneider and is now in training with the Norwegian. She finished fourth with 68.767%. Helen Langehanenberg rode Gunther Fielmann's 9-year old Annabelle (by Conteur x Linaro) also in this Grand Prix class and landed 6th place with 68.333%
Two Americans were to be found on the results list for the Ankum Intermediaire II. Sabine Schut-Kery made her European big tour debut on Alice Womble's 11-year old Hanoverian stallion Sanceo (by San Remo x Ramiro's Son). They finished second with 70.175%, ahead of young rider Jil Marielle Becks on Damon's Satelite (by Damon Hill x Rubin Royal) with 69.123%. American Todd Flettrich also competed in this class with Margaret Duprey's Danish warmblood Romario (by Romanov x Solos Landtinus), but he retired from the test. Romario was initially bought as a 2015 Pan American Games hopeful, but 
In the same class Malin Nilsson rode the 9-year old Oldenburg stallion Rubin Cartier (by Rubin Cortes x Gribaldi). The stallion was previously competed by Dutch Simone van Wijngaarden. The new duo scored 68.114% ahead of German young rider Jessica Krieg on Special Edition. The duo made its Grand Prix debut in Ankum and scored 67.675% in the Inter II and it won Sunday's Grand Prix class with 70.767%. Krieg is trained by Spanish team rider Borja Carrascosa.
Dream Boy in Kronenberg
At the regional subtop show in Kronenberg, Dutch team rider Hans Peter Minderhoud made his big tour debut on the 9-year old KWPN licensed stallion Dream Boy (by Vivaldi x Ferro). The pair won the Intermediaire II with 74.67%. Since June 2016 Dream Boy is owned by a syndicate which includes Tim Coomans, Jacques Maree, Stable Brinkman and Gaston Glock.
The Grand Prix class was on by Italian Riccardo Sanavio, who has been working as a stable jockey for Minderhoud and Gal since March 2017. Aboard Federleicht (by Furst Piccolo) he scored 69.45% ahead of Alex van Silfhout on Zep (by OO Seven) with 68.80%.
At Prix St Georges level, Diederik van Silfhout campaigned the Taiwanese owned 7-year old Westfalian stallion Dahlhoff (by De Niro x Furst Piccolo). They won the class with 70.79%. The stallion is in training with Van Silfhout in preparation of the 2018 Asian Games. The stallion was previously shown by Tanja Sauerwald-Fischer in Germany and Mark van de Donk in Holland.
Fackeltanz Returns in Ebreichsdorf
At the national show at Magna Racino in Ebreichsdorf, Austria, several well know horses were to be found on the score sheets.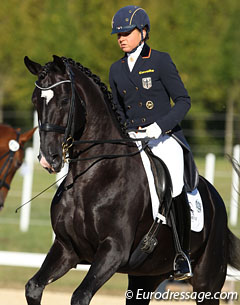 Sissy Max-Theurer's stable jockey Stefan Lehfellner steered the black stallion Fackeltanz to victory in the Intermediaire II with 72.500%. The 12-year old Oldenburg licensed stallion Fackeltanz (by Florencio x Feinbrand). The stallion was last competed internationally at small tour level by Dorothee Schneider at the CDI Munich in May 2014. Nationally Schneider last rode him in the Louisdor Cup Finals in December 2015 and finished fourth.
Not a week after Henrik Lochthowe's departure from Meggle Stable, the Grand Prix horse Meggle's Boston (by Johnson) made his show debut under German Wibke Bruns. She scored 67.325% in the Intermediaire II and placed 6th. In the Grand Prix they ranked 7th with 66.000%.
In the Prix St Georges Juliane Vogt placed 4th on the 10-year old Oldenburg mare Fullsister (by Diamond Hit x Santander H) , which was previously shown in Germany by Nadine Plaster. The new duo, which has been together for a year and already did several small tour CDI's this year, scored 68.246%. The pair went on to win the Intermediaire I with 67.939%
Related Links
Riccardo Sanavio Hired as New Stable Jockey for Gal/Minderhoud
Glock Acquires Co-Ownership of Dream Boy
Lyndal Oatley Secures New Ride, Elvive 
Hendrik Lochthowe Leaves Meggle for Westhoff's Gestut Riedmuhle 
Fackeltanz and Lobenswert Win 2010 Bundeschampionate Qualifier at Hofgut Allerer
Sabine Schut-Kery Awarded 2017 Carol Lavell Advanced Prize