American Dressage News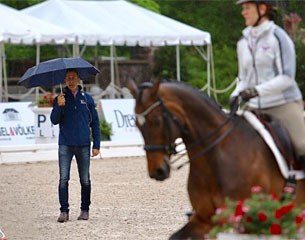 US Equestrian (USEF) has announce the dates for the eighth annual Robert Dover Horsemastership Clinic Week (RDHMW) from January 2-5, in Wellington, Fla.
Designed to identify and develop the next generation of U.S. equestrian team talent, participants will receive instruction from experts in a variety of aspects of horsemanship.
Past participants included members of the 2017 Adequan/FEI North American Junior and Young Rider Championship (NAJYRC) presented by Gotham North teams including: Kristin Counterman, Bebe Davis, Claire Hodges, Callie Jones, Rebekah Mingari, and Allison Nemeth. Additionally, past participants of the RDHMW also participated in the 2017 The Dutta Corp./USEF Brentina Cup National Championships presented by Dressage Today, including Kaitlyn Blythe, Mallory Chambers, Natalie Pai, and Molly Paris.
Training sessions will feature intense, mounted sessions led by internationally acclaimed American athletes and trainers and daily instruction on all facets of horsemanship from experts in their respective fields. Participants will hear lectures from veterinarians, saddle and tack specialists, farriers, dressage professionals, media staff, life coaches, and accredited judges. The week will conclude on January 5, with clinic participants riding their tests in front of the judges and gaining feedback from coaches.
18 athletes will be invited to participate in RDHMW, including:
The NAJYRC individual gold and silver medalists of the 2017 NAJYRC Championships
Champion and Reserve Champion of the 2017 Brentina Cup Dressage National Championship
Champion and Reserve Champion from the 2017 Medal Seat Finals (14-18 division)
Champion and Reserve Champions from the 2017 Medal Seat Finals (13 and under division)
Champion and Reserve Champion from the 2017 USEF Junior Dressage National Championships
Champion and Reserve Champion from the 2017 USEF Young Rider Dressage National Championships
Four Wild Cards
US Equestrian appreciates the many sponsors and clinicians who make this event possible, including Kim Van Kampen of Hampton Green Farm and Equestrian Sport Productions (ESP) in conjunction with Mark and Katherine Bellisimo. US Equestrian also thanks Terri Kane and Diamante Farms for her continued support and hosting of the party for the sponsors and participants of the clinic.
Athletes interested in a wild card application should contact Hallye Griffin, US Equestrian Managing Director, Dressage, at hgriffin@usef.org. The deadline for application submission is November 15, 2018.
The public is welcome to audit all mounted sessions at a nominal $25/day charge.
Related Links
USEF Renews Contract with Robert Dover as U.S. Dressage Technical Advisor
Robert Dover Promoting Change for His Sport and His Country
Robert Dover: Why Equestrian Should Be Kept in the Olympic Program
Robert Dover: Rethinking the Future Olympic Formula