Westfalian Breeding News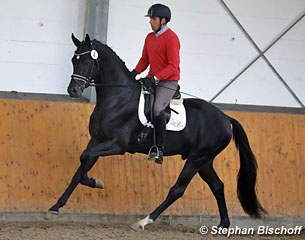 The Westfalian branded Erdinger and the Oldenburg bred Flying Nymphenburg became the dressage best scorers in the 14-day Suitability Testing which took place in Schlieckau and Neustadt/Dosse, Germany, on 13 - 26 September 2017.
Lyon Tops Schlieckau testing
At the Schlieckau testing, the top scorer was the jumper stallion Lyon (by Lord Argentinus) who finished with an 8.35 total. He got 9 for show jumping and 7.4 for dressage.
The best scoring dressage stallion in Schlieckau was Flying Nymphenburg (by Furstenball x Johnson x Donnerschwee), who  scored a total of 8.18 points with 8.06 for dressage and 8.05 for show jumping. The colt got 8 for walk, trot and canter, 7.5 for ridability, 8 for jumping in freedom and 8.75 for rideability and potential from the test rider.
Two further dressage stallions scored a total of 8.10: Deinheart (by Durrenmatt) and Fellini (by Berlusconi). The former got 8.01 for dressage and 7.73 for show jumping. The latter scored 8.20 for dressage and 7.70 for show jumping. 
The Oldenburg bred Free Willy H (by Furstenball) failed the testing and is no longer allowed to breed. He scored only 7.23 points in total with 7.41 for dressage and 6.83 for jumping. Quando Unico (by Quatensprung x Fidertanz x Hohenstein) also failed the testing with his 7.28 overall score.  State stud Moritzburg acquired the stallion for 280,000 euro at the 2016 Hanoverian stallion licensing. He scored 7.63 for dressage and 7?.08 for jumping. 
Erdinger, Dressage High Scorer at Neustadt/Dosse Testing
A nameless Hanoverian bred jumper by Viscount x Edward was the top scorer at the Neustadt/Dosse testing. With an overall of 8.58 points he dominated the group. He got 8.16 for dressage and 8.53 for show jumping. The jumper Tornado (by Tornesch) followed on his heels with 8.55 overall.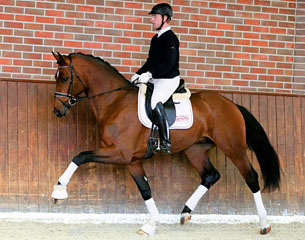 The Westfalian branded Erdinger (by Escolar x Contender x Coriander) was the highest scoring dressage horse in the 14-day testing in Neustadt/Dosse. Bred by Hermann Gerland and owned by Gestut Sprehe, the bay scored 8.25 overall with 8.8 for dressage and 7.55 for jumping. Erdinger got 9 for character. 9.5 for trot, 9 for canter and 8 for walk. The test rider gave hum 8.5 for rideability. Erdinger totalled 8.8 for dressage and 7.55 for show jumping. 
The Oldenburg De Beau (by De Niro x Sandro Hit x Don Schufro), who is bred by Henry Grosse Macke. De Beau scored an 8.10 total with 8.63 for dressage and 7.33 for jumping. 
Giulia Hartmann's dressage bred 4-year old Rhinelander Ben Amour (by Benicio x Ravallo) failed the testing with a total of 7.28 (7.28 for dressage , 6.68 for jumping).
Photo © Stephan Bischoff - Sprehe
Related Links
German Stallion Performance Testing Undergoes Further Changes, Suitability Tests in 2017
Crimetime GT Wins 2017 Marbach 14-Day Stallion Suitability Testing
Karajan, Top Scorer at 2017 Schlieckau 14-day Stallion Suitability Test
Zoom, High Scorer of the 2017 Neustadt/Dosse 14-Day Stallion Suitability Test 
Devonport and Don Martillo, High Scorers at 2017 Stallion Sport Test in Verden
Destacado, High Scorer in Second 2017 Stallion Sport Test in Munster
Bonds, High Scorer at 2017 German Stallion Sport Testing in Munster