German Breeding News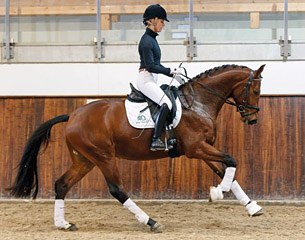 The versatile bred Crimetime GT became the overall high scorer of the 14-day Stallion Performance Testing in Marbach, Germany, which took place from 6 - 19 April 2017.  The 14-day testing has been renamed into the "Suitability test" as of 2017.
The 3-year old German Sport Horse stallion Crimetime GT (by Chambretto GT x Placido Son x Pik Bube) scored the highest overall mark of 8.45 points in March. Bred and owned by Gestut Tannenhof, Crimetime GT earned 8.36 for dressage and 8.23 for show jumping. He got 9 for character, 8.5 for trot and canter, 7.5 for walk, 8.5 for rideability, 8 for jumping in freedom and 9.25 from the test ride. He was licensed at the Zweibrucken Stallion Licensing in October 2016.
The second highest scoring stallion was Meridian (by Millennium x De Chirico x Royal Dance) who is bred by Schadock and owned by Gestut Kremmen. He earned a total of 8.15 with 8.36 for dressage and 7.88 for show jumping. His gaits earned him 8.5 for trot, 8 for canter and 7.5 for walk. 
Meridian's 8.36 dressage score was the highest in the field, which he shared with a nameless Oldenburg bred colt by Dante Weltino x Fidertanz x De Niro, bred by Franz-Josef Bolte. This stallion, however, got 7.03 for show jumping. He also earned 8.5 for walk, trot and canter, but got 6.5 for jumping in freedom. 
The Marbach 14-day testing also included stallions such as the Dutch warmblood Zick Zack (by Zack, formerly named Jennovanck PP), who finished on 7.65 points. The Trakehner licensing champion Perpignan Noir (by Schwarzgold) made the cut with 7.60 points, receiving 7.78 for dressage and 6.98 for show jumping. 
Vom Feinsten (by Van Vivaldi) finished with 7.35, which did not suffice to keep licensed status, nor did a nameless colt by Guardian (7.15).
Related Links
Karajan, Top Scorer at 2017 Schlieckau 14-day Stallion Suitability Test
Zoom, High Scorer of the 2017 Neustadt/Dosse 14-Day Stallion Suitability Test 
Devonport and Don Martillo, High Scorers at 2017 Stallion Sport Test in Verden
Destacado, High Scorer in Second 2017 Stallion Sport Test in Munster
Bonds, High Scorer at 2017 German Stallion Sport Testing in Munster 
German Stallion Performance Testing Undergoes Further Changes, Suitability Tests in 2017