French Dressage News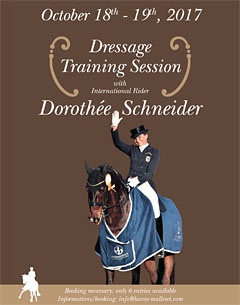 Leading French dressage breeding farm and rehabilitation centre Haras de Malleret in Le Pian Medoc near Bordeaux, France, is proud to be hosting a training seminar with German Olympic Dorothee Schneider on 18 - 19 October 2017. Riders who wish to participate in this event can contact Haras de Malleret to reserve one of six training slots still available.
Dorothee Schneider is the daughter of renowned Trakehner breeder, stallion keeper and Grand Prix dressage judge Hans Eberhard Schneider. She owns and runs St. Stephan stud since 2000. Aboard Diva Royal she won team silver and placed 7th individually at the 2012 London Olympic Games. Aboard Showtime she won team gold at the 2016 Olympic Games in Rio de Janeiro, Brazil. Aboard Sezuan she won the World Championships for Young Dressage Horses three years in a row.
Haras de Malleret is proud to be hosting the first in a series of Dressage Training Seminars with the world's leading dressage riders and coaches.
There are six slots still available for those who wish to ride and get exclusive training from Dorothee Schneider on this inaugural training weekend on 18 - 19 October 2017. 
Contact Haras de Malleret for more information: