2017 British Dressage Championships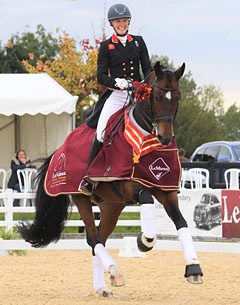 Lara Butler and Wilfried Bechtolsheimer's Rubin al Asad captured one of the most important titles of the week, the British Grand Prix Champion's title, at the 2017 British Dressage Championships on Saturday 16 September 2017. The overal "British Grand Prix Champion's" title is decided on Sunday after the Freestyle.
In three days time Charlotte Dujardin scored her fourth title in an FEI level class, completing a hattrick on Mount St. John Freestyle in the small tour.
Butler Goes for Gold
Having finishing second in 2015, it was at last Lara Butler's day in the Grand Prix. After performing a sublime test in front of the crowds she earned a score of 73.78% to top the class aboard Dr Bechtolsheimer's 15-year-old Rubin Al Asad.
Speaking about her winning test Lara said, "he flew in the trot extensions so they were a highlight and the passage was great too – that's always something I can bank on. Even the half passes were good and they aren't normally! He was just super, he was flying and he really took me around which was the best feeling."
A National Grand Prix title has been long in the pipe line for the elegant combination who've scored above 70% in all but two of their tests in 2017. Lara and the Rubin Royal sired gelding known as 'Rufus' were also the named reserve for this year's European Championships in Gothenburg, Sweden. About her superstar partner Lara enthused "He's just in such great form, he's so pleased to be back out and proving to everyone how nice and how fit he is – he can still show the young horses how to do it!"
Despite her good form Lara approached the show not necessarily thinking about the win, 'I always come out with high hopes and the aim is to do the best I can possibly do, if that means I win then that's great."
Overall Champion Decided on Sunday
Tomorrow's Grand Prix Freestyle final will be an exciting watch as the pack behind Lara aim to catch her up.
Hayley Watson Greaves and WG Rubins Nite were hot on her heels and finished a very close second today scoring 73.62% with Carl Hester and Jane Forbes Clark's Alcazar taking third place with a solid 71.70%. Hester loaned Alcazar from his American student Katherine Bateson-Chandler who trains with him in the U.K. for six months each year before spending the winters in Wellington, Florida.
"I love the freestyle it's the fun bit, so I'm going to enjoy it and hopefully we can do the same as today!" Lara concluded.
Dujardin Scores Fourth FEI Level Title in Three Days
The heavens opened for many in the Inter I Freestyle, however a small thing like the weather didn't stop superstar Charlotte Dujardin from achieving the highest score of the Championships so far, a whopping 81.50%.
Riding the Mount St John stud's eight year old Fidermark mare, Mount St John Freestyle, to a Simon and Garfunkel themed sound track, Charlotte was also crowned Saracen Horse Feeds Inter I Supreme Champion after her fantastic performance yesterday was combined with today's score.
"I'm absolutely thrilled," announced Charlotte. "It's my first ever freestyle with her, so I'm over the moon.  I felt quite emotional at the end as she gave everything.  We were both soaked from head to toe though!  We've not even practiced the floorplan so I'm super happy with her.  It's music that Carl's had for about 15 years and was Del's (Hawtins Delicato) music, there's a few in the yard who've started with it!"
Speaking to the crowd who braved the weather to catch a glimpse of the Olympian and her exciting up-and-coming star, commentator Andrew Pollard asked how she's managing to remember the eight different tests she has to ride over the course of this week;
"I've been asking myself that same thing!" She exclaimed. "The hardest thing is getting off one and straight onto another to ride a different test – but somehow I managed to do it today, we'll see if I can remember tomorrow!
Text by British Dressage, edited by Eurodressage - Photo © Kevin Sparrow
Related Links
Scores 2017 British Dressage Championships
Dujardin Wins Prix St Georges and Inter II Title on Day One of 2017 British Championships
Dujardin Continues Sweep with Inter I Title on Day Two of 2017 British Dressage Championships