What's Happening in the Dressage World?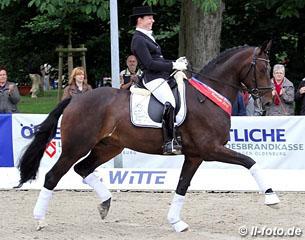 Maria Crone-Münzebrock's 10-year old Oldenburg gelding Sammy Deluxe OLD (by Samarant x Rohdiamant x Urofino) died unexpectedly on Friday 8 September 2017. The gelding collapsed and died during a training session. He suffered an aortic rupture.
Sammy Deluxe OLD never competed internationally but had an extensive show career in Germany. He was first competed by Dominic Bücker and finished 4th at the 2010 Bundeschampionate as a 3-year old. Then Nadine Feser (née Corterier) took over and she rode him to a 10th place at the 2012 Bundeschampionate. As of 2014 Lukas Fischer climbed aboard and took him to small tour level. The horse last showed in August at a local event in Roffhausen.
The Warendorf state stud had to say goodbye to their 14-year old licensed stallion Fleury (by Furst Piccolo out of Rubina (by Rubinstein x Parodist). The chestnut stallion broke its pedal bone and had to be euthanized. Fleury was a premium stallion at the 2005 Westfalian Stallion Licensing and won the 30-day stallion performance testing in 2006. He also finished fourth in the 70-day performance testing in 2007. Fleury only sired one approved son, Furst Remus.
The KWPN society announced that this year the most chosen names for foals in 2017 are "Maestro" for colts and "Miss Montreal" for fillies. Maestro has been chosen by breeders no less than 87 times, followed by Macho, Max, Magnum and Memphis. For the filly names Miss Montreal was picked 34 times! Other popular filly names were Melody, Maxima, Madonna and Malibu.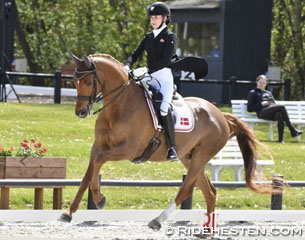 Ridehesten reported that Danish junior rider Nathalie Hering has now acquired the Trakehner stallion Litvinenko Sjaeltofte (by Imperio x Pidroneur) from her coach Anne Troensegaard after having leased him for 1.5 years. The pair were winners at the 2016 German Trakehner Championships in Hanover and they won team gold at the 2017 Nordic Baltic Championships. Troensegaard rode Litvinenko herself as a young horse and they were finalists at the 2014 World Young Horse Championships in Verden.
Former KWPN society chairman Bernard Bijvoet passed away on 22 August at age 77. Bijvoet was the chair from 2000 till 2006.
Zuchter Forum reported that renowned Hanoverian and Holsteiner horse breeder Friedrich-Wilhelm Maack has passed away at age 96. Maack garnered fame with his foundation mare Juvel (by Moltke I) who ended up producing the 1990 Bundeschampion Pik Bube's Girl as well as the licensed stallions Ramiro's Son I and II and Ramiro's Bube). Maack's own children never carried out his breeding project. 
Dutch young rider Mercedes Verweij has returned her recently purchased small tour horse Show Boy to his previous owner and rider Joyce Lenaerts and has made her debut on the KWPN licensed stallion Uphill (by Oscar). Verweij got in touch with Uphill's owner Van Norel when she decided to breed her injured junior rider's horse Zarah. She has been riding Uphill for a few weeks and made her national show debut on the bay stallion in Aerdenhout, where they scored 61.64%.
Dutch dressage rider John Tijssen and his partner Rob van Rijthoven are relocating their business to Rob van Puijnebroek's yard De Begijnhoeve in Retie, Belgium. Tijssen is bringing 11 horses with him and will help Van Puijenbroek with the training of some of his young horse stock.
Mount St. John's resident rider of three years Lucinda Elliott has decided to move on to pastures new and will shortly be leaving MSJ. She won the 2015 Novice Restricted National Title on Best of All in her first season as a dressage rider. In 2016 Lucinda returned to finish 2nd and 3rd in the 5 year old BD Finals with MSJ Top Secret and Furstin Fugger, and has won another nine regional titles with a range of horses from Novice to Medium level over the last 2 seasons. From 2015-2017 Lucinda was selected to be on the BEF Excel Sport England Youth Programme for Dressage with three MSJ horses, and was one of the highest and most consistently performing riders during that time. "We have loved the journey from the start with Lucinda and couldn't have chosen a better person to share the first chapter of MSJ with," said MSJ owner Emma Blundell. "We wish her all the best for her future in all her new adventures and will miss her dearly."
De Hoefslag reported that the Florida based Dutch rider Yvonne de Haan acquired Lianne Crielaard's Grand Prix horse Amerto (by Kennedy). The 1.80 m standing dark bay gelding competed at national Grand Prix level in The Netherlands and has now been sold to De Haan, who recently also purchased Grand Prix horse Adriaan RVL (by Special D).
The French equestrian television network Equidia Life is calling it quits and will disappear from the tv-screen on 31 December 2017. The costs for running the station (with a budget of 7 million euro of expenses per year) have become too big. Equidia was launched in September 2011 with Laurent Eichinger as managing director and Pascal Bouterau as editor in chief. Equidia is owned by horse racing company PMU