American Dressage News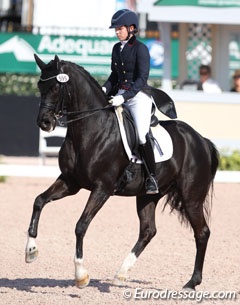 Chase Hickok's successful whirlwind competition trip in Europe ended in distress with her Grand Prix horse Sagacious HF testing positive to glanders in quarantine. With legal help, owner Al Guden called for a retesting which turned out negative.
Hickok and the 18-year old Dutch warmblood Sagacious HF (by Welt Hit II x Cocktail) competed at the CDI's in Falsterbo and Hickstead in July. The pair placed fourth in Falsterbo in the Grand Prix and second in the freestyle. In Hicksread they were second in the Grand and third in the Special, each time with scores just over 70%.
Owned by Al Guden, Sagacious was flown back to Miami from Amsterdam, but in quarantine she tested positive to Glanders, a deadly virus. The horse was tested with the CFT Test, but it can sometimes be inaccurate.
By working with Lexington, KY lawyer Chapman Hopkins and the U.S. Department of Agriculture, Guden won a stay of execution after he has his horse had been retested on 11 August, this time with the Western Blot test which is considered to be more accurate. It came back negative on the same day in the afternoon.
"We've been working round the clock with our Lexington based attorney and the USDA to resolve the problem with Sagacious testing positive for Glanders at MIA," Guden told Eurodressage. "We are thankful that the USDA deviated from the normal protocol to get us this far."
Sagacious has to stay in quarantine at Miami International Airport until U.S. Department of Agriculture tests clear the horse for release. Sagacious will be retested on 23 August.
If Sagacious is not cleared, the USDA could extend the quarantine or the horse will have to be returned to Amsterdam as the point of origin, or euthanized. 
Photo © Astrid Appels
Related Links
Eurodressage Photo Database: Sagacious
How Glanders in Germany Has Affected Global Equine Transportation
Equine Travel Restrictions from Germany to Australia End 30 July 2015
Equine Health and Safety in Full Flight with IRT 
Sagacious HF Leased to Chase Hickok
American Grand Prix Horses Otto and Sagacious to Be Retired