Eurodressage F.O.C.U.S.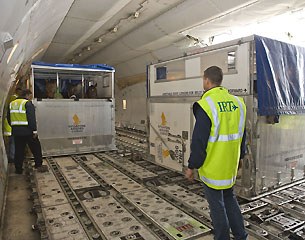 Any rider who has had a horse suffer from travel sickness knows how stressful that can be. Particularly when you are usually on way to an important competition and you have enough to worry about! Flying around 5,500 - 6,000 horses every year, equine shipping company IRT has been operating for over 40 years with bases in the USA, New Zealand and Europe.
Eurodressage caught up with Jim Paltridge, the Managing Director of IRT in Europe, to get a better sense of how the company deals with the health of these very important passengers, focusing on the issues they faced in the lead up to last years Olympic games.
"IRT handled the flights of the Australian and New Zealand Olympic horses into Europe before and after the games, however IRT did not handle the shipments direct to Rio from Europe and back," said Jim. "However with regards to the flights we did handle, the riders we spoke with seemed happy with the flight logistics."
Jim added that the Olympic lead-up was not such a big deal for the company, as IRT stays reasonably busy all year round.
"USA, UK and Germany are the most busy in the period from June through to January, whereas New Zealand and Australia are most busy from December until the end of June," Jim explained. 
Preventing Travel Sickness 
For any equine shipping agency, travel sickness is a major concern. "Travel sickness is certainly IRT's biggest challenge," Jim explained. "There is a risk of injury or colic, but these remain relatively rare."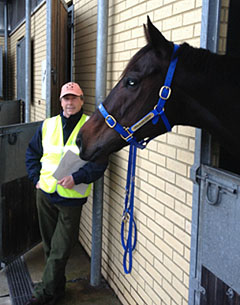 When asked how the company prevents and deals with travel sickness in horses, Jim commented that they have the right people on board, who can recognise the symptoms and treat them very quickly by a vet with antibiotics and fluids.
"On board every flight has professional experienced flying grooms, who do nothing else," Paltridge stated. "The ratio of grooms to horses  depends on the number of horses on the flight and the number of available seats. Where our clients agree, especially on long haul flights, we also place a vet on board and have about half a dozen regularly flying vets on our team."
The sickness, according to Jim, is usually recognised by horses having elevated temperature, sometimes sweating and fast breathing, with a depressed demeanour. 
"How frequently it occurs in horses depends on the length of the journey," said Paltridge . "However flights of over 12 hours long are most at risk and usually have an incidence rate of about 4-6%, that are mostly mild cases if quickly treated, but of course it can be lethal."
To prevent travel sickness the IRT team uses an electrolyte paste during the flight to promote drinking, and when flight conditions allow, the horses are encouraged to put their heads down during flight to eat their hay.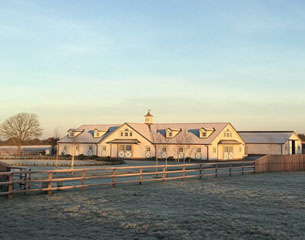 "This encourages postural drainage to reduce incidence of shipping fever," said Jim. "If a horse presents with shipping fever it is treated very swiftly by our vet. On arrival, all temperatures are monitored twice a day if in our care for at least seven days (14 days in Australian & NZL quarantine) and we advise our clients to do the same, if the horse is going straight to their owner's stables from the plane."
Jim says that being part of the IRT team is a very challenging and rewarding experience. "Especially the large operations. It's a bit like doing the cryptic crossword," he confessed.
Jim said that as European manager he was not familiar with this flight, but as he understands it there were no other flight options from Australia to USA, except via charter which would have cost many hundreds of thousands of dollars.
Learning from Past Mistakes
Five time Olympian, Australian rider Mary Hanna, knows all about long haul flights and the complications that can arise from travel sickness. One incident in particular will haunt her forever.
"My worst episode was when Limbo died returning from the Athens Olympics in 2004. They did not pick up early enough in quarantine that he was sick. He had stopped eating and they did not even take his temperature . By the time they realised he was sick it was too late . His whole body went toxic and he died," Mary reminisced. "Since then I never let my horses go on any flight or quarantine without either a very experienced groom or myself with them. This has ensured their health since, although I am about to embark on another trip and I always have a great fear of them becoming ill."
Since then international horse shippers have learned much and the IRT team is putting that gained expertise into practice. They know how to handle such issues as they arise.
"You can see how much effort they put in to ensure this never happens again," said Mary about IRT's professionalism. "I have done literally dozens of trips with IRT. I think in many ways they are good. They have learnt a lot since then. They currently have good grooms, and a good new quarantine station in Germany where there is an indoor and the horses can be ridden. They do try very hard now to look after the horses."
Mary revealed that one of her home tips and tricks is trying to boost the horse's immune systems with vitamin C, garlic and vitamin B, and as Jim mentioned they are given an electrolyte paste during the trip.  "We are all extremely vigilant," Mary concluded.
For more information about IRT, visit www.irt.com
Related Links
Dejavu MH, Half Way Round the Planet, Final Leg to Omaha up Next
New Zealand's Julie Brougham on Board with IRT To Go All the Way To Rio
How Glanders in Germany Has Affected Global Equine Transportation
Equine Travel Restrictions from Germany to Australia End 30 July 2015
Hendra: The Virus, The Vaccine, The Debate