2017 Hungarian Youth Riders Championships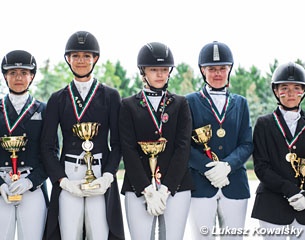 Children's rider Bernadett Radnai, pony rider Hanna Ivan, junior rider Berill Szoke Toth, and young rider Reka Zengo became the winners and title holders at the 2017 Hungarian Youth Riders Championships held in Babolna, Hungary on 7 - 8 July 2017. The Hungarian Championships were ridden over two rounds.
In the children's division Bernadette Radnai and the 22-year old Austrian bred Laron M (by Layout x Venator) claimed the gold after two convincing, winning rounds. Radnai scored two victories with 69.330% and 69.170% for the gold. The silver medal went to Rita Laura Nagy on the 7-year old Rhinelander bred Fame (by Zambuka x Sandro Hit). She was third in round one (66.780%) and third in the second round (65.780%). Hanna Hoffer and her 13-year old Hanoverian bred Ferrari (by Ferro x Castro) scored the bronze after posting 67.670% (2nd) and 63.960% (6th) on the board.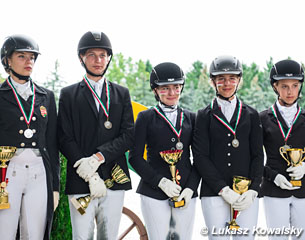 In the pony division the experienced Hanna Ivan and her routinier Equestricons Epiascer, a 17-year old Belgian Sport Pony by Ten Ankers Jerolianca x Large River Cleopas, were good for gold with 68.900% and 69.610%?. Zsofia Lazar and the Danish bred 14-year old Jazzo were silver with two second places on 68.490% and 68.170%. Panka Nagy and her 12-year old Dutch bred Dano's Miracle KS (by Bodo) landed bronze with 65.620% (4th) and 68.370% (2nd). 
Eight junior riders battled it out for the national glory and the most experienced one of the lot, Berill Szoke Toth, topped the board on the 14-year old Hanoverian mare Donna Romma (by Don Frederico x Warkant). She won round one wiht 69.240% and round two with 70.970%. Dominik Borza and the 16-year old Hanoverian bred Whispering Beauty (by Wolkentanz x Wanderbusch II) scored silver with 65.380% and 66.630%. Former team pony rider Benedek Pachl made a smooth transition to junior level and earned bronze aboard the 13-year old Shagya Arab Koheilan Tajmir P (by Koheilan XXXIII x Magdan). He posted scores of 64.810% and 67.160%.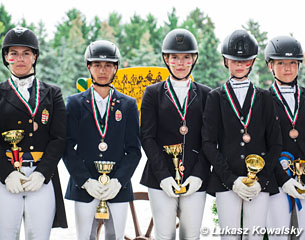 Only three young riders gathered in Babolna so each of them won a medal. Reka Zengo and her 13-year old Bavarian bred Ronaldinho (by Rivero II x Royal Diamond) aced the division and earned gold after scoring 68.680% in the team test and 69.600% in the individual. Anna Sophia Kokenyesy and the 13-year old Westfalian Leopold (by Laudabilis x Argentinus) got silver with 67.710% and 69.320%, while Antonia Galfi and the 14-year old Hanoverian mare Heavens Dark Lady (by Hofrat x Mozart) finished with bronze on 66.130% and 66.400%.
Photos © Lukasz Kowalski
Related Links
Hungarian Youth Team Riders Participate in Nicolette van Leeuwen Clinic
Hungarian Riders Selected for 2016 European Junior/Young Riders Championships
Hungarian Team Selected for 2016 European Pony Championships
Nikolett Szalai Wins 2016 Hungarian Grand Prix Championships
Hungarian Berill Szoke Toth Makes a Clean Sweep at 2016 CDI-W Zakrzow