2017 French Pony Championships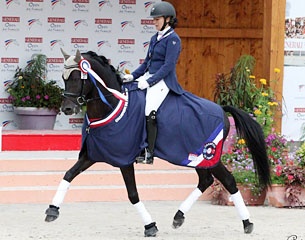 Charlotte Palas and the French bred Under Cover Fast became the winners of FEI pony level dressage division at the 2017 French Pony Championships held at the national equestrian centre in Lamotte-Beuvron on 7 - 9 July. The French Pony Championships are one of the biggest equestrian events in the world with over 10,000 ponies attending to compete in all horse disciplines imaginable.
Sixteen French pony dressage elite gathered in Lamotte to compete for the French FEI Dressage Pony Champion's title. The eight highest scoring riders after the team and individual test were allowed to compete in the freestyle for the medals. 
Charlotte Palas and the 9-year old Selle Français bred pony Under Cover Fast (by Latimer x Cansas) earned the champion's sash and title after winning the team test with 71.75%, placing second in the individual with 70.93% and winning placing third in the Kur to Music with 72.33%. Her average score of 71.67% was the highest of the lot and earned them gold. 
Aurore Thevenot and the 13-year old German Riding Pony Osbourne (by Othello x Benetton S) finished with the silver. They were fifth in the team test (67.05%), won the individual (71.06%) and was second in the Kur (74.29%). Aurore, who took over the ride on Osbourne from sister Mathilde in 2016, scored an average of 70.80%.
Alexandre Cheret and the grey Belgian SBS bred Butterfly Dew Drop (by Florencio x Polaris Harold) grabbed the bronze medal. He was sixth in the team test (66.97%), third in the individual (69.19%) and he won the Kur to Music on the final of competition with 75.42%. His average of 70.52% landed him third place overall.
"My pony was very much listening (to my aids) throughout the championships which allowed me to get a good outcome like this," said Charlotte Palas, who is trained by her mum Coralie. "During the test I was very confident and very concentrated. I wanted to win and do my best."
Photo © Rose H.
Results - 2017 French Pony Championships - Lamotte-Beuvron
1. Charlotte Palas - Under Cover Fast - 71,75% -  70,93% - 72,33% --- 71,67%
2. Aurore Thevenot - Osbourne - 67.05 - 71.06 - 74.29 ---- 70.80
3. Alexandre Cheret - Butterfly Dew Drop - 66.97 - 69.19 - 75.42 --- 70,52%
4. Lou Morali - Swyn Barrade - 71.24 - 67.32 - 71.25  --- 69,94%
5. Leana Capy - Olywood de Blonde - 67.18 - 68.62 - 68.96 --- 68,25%
6. Aube Lacroix - Dinky Toy van het Bloemenhof - 68.68 - 65.72 - 70.25 --- 68,22%
7. Lola Tardieu - Romario Luna - 66.58 - 66.71 - 70.96 --- 68,08%
8. Clara Vinchon - Ushuaia Eliza Modesty - 64.83 - 65.37 - 58.50 --- 62,90%
Related Links
Manon Desjardins Wins 2016 French Pony Championship
Clarissa Stickland Wins 2013 French Pony Championships
Joy Albeck Renews Title at 2011 French Pony Championships
A Day at the 2011 French Pony Championships in Lamotte-Beuvron 
Joy Albeck Wins 2010 French Pony Championship