British Dressage News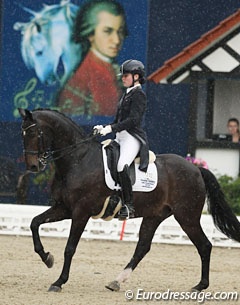 Following a successful pre-European training camp last weekend, British selectors Andrea Smith, Leanne Wall and Nikki Herbert, have named their riders for the 2017 European Children, Junior and Young Riders Championships in Roosendaal, the Netherlands on 9 – 13 August 2017.
Chief Selector Andrea Smith commented; "We want to thank all the riders for showing such commitment to the squads. We appreciate how hard it is to juggle competing internationally with studies, exams and training. The Young Riders have been strong this season and competition for places was tough, while the Juniors are in a transitional year but the progress shown through the season has impressed. A huge thank you to our hosts this weekend for the camp, Sarah and Tony Pidgley from Kilbees Farm. Their kind hospitality and fabulous facilities are very much appreciated."
Great Britain will not be fielding a team in the children's division, but is sending one individual rider: Lily Payne (13) from Leverton, Lincolnshire with Anne Savage's Beckhouse Cancara.
The British Junior Riders team comprises:
Emily Bradshaw (18) on Susan Bradshaw's Remarkable (19yrs, by Royal Diamond)
Jade Ellery (18)  on Diana Porsche's Eloy (14yrs, by Earl)
Abbie Newbury (18)  on Tessa Thorne's Disneyland (8yrs, by Diamond Hit)
Maddy Whelan (14) on Peta Claridge's Monsieur Pomerol (16yrs, by Riccione)
The first reserve is Emma Bond (16) with her own Lime Walk (15yrs, by Limes).
The British Young Riders Team includes:
Rebecca Edwards (20)  on Sarah Oppenheimer's Headmore Delegate (14yrs, by Dimaggio) with a direct reserve of Dr Margaret Cox's Ufano II (16yrs,  by Indeciso) 
Charlotte Fry (21)  on Anne van Olst and her own Dark Legend (9yrs,  by Zucchero) with a direct reserve of Anne van Olst's Everdale (8yrs,  by Lord Leatherdale)
Ellie McCarthy (20)  on Olivia Oakeley's Donna Summer (16yrs,  by Dimaggio)
Joanna Thurman-Baker (19) on Samantha Thurman-Baker's Highcliffe Apollo (15yrs,  by Der Lenz)
The first reserve is Robyn Smith (21) on Gail Smith's Foold Uz (10yrs, by Fulton); the second reserve is Lauren Phillips (21) with her own Hot Chocolate (9yrs,  by Hohenstein)
Photo © Astrid Appels
Related Links
Eurodressage Coverage of the 2017 European Children, Junior & Young Riders Championships   
British Long List for 2017 European Junior and Young Riders Championships