2017 Balkan Dressage Championships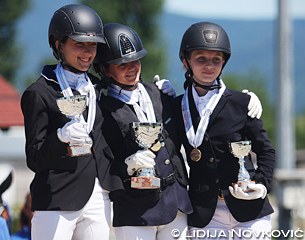 Children's rider Maria Eleni Tourkomani (GRE), junior rider Lavinia Macropoulou (GRE), young rider Isabella Nina Ravini (GRE), and senior small tour rider Birgit Fabris Sauer (SLO) were the winners of the individual gold medal on the final day of competition at the 2017 Balkan Dressage Championships held in Zagreb, Croatia, on 30 June - 2 July 2017.
The 2017 Balken Dressage Championships, previously known as the Balkan Games, was hosted at the Zagreb Hippodrome and featured a full programme to truly create a Championship feel to the event. With an opening ceremony and a special show called "Nobiles de Croatia", the event provided the full package. 
A panel of four international judges, comprised of Peter Hansaghy, Elke Ebert, Sissy Max-Theurer and Yuri Romanov, assessed the rides from Children's level through junior and young riders up to Prix St Georges. The Championships were open to 11 countries: Albania, Boznia Herzigovenia, Bulgaria, Croatia, Greece, Macedonia, Moldavia, Romania, Slovenia, Serbia, and Turkey.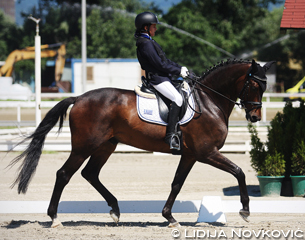 In the Children's division the gold went to Grecian Maria Eleni Tourkomani for scoring 68.542% in the individual test on DJ, a 9-year old Dutch warmblood. The Swiss based Tourkomani is 12 years old and edged out country mate Eirini Dimitrijevic on Evgenia Michalpoulou's 18-year old schoolmaster Escordio. She earned silver with 65.521%. Bulgarian Ivet Georgieva and the 18-year old Belgian warmblood gelding Winchester van de Paddenborre (by Quidam de revel x Fleuri du Manoir) got bronze with 65.156%. Winchester was a former internationally competed Grand Prix show jumper under Bulgarian Rossen Raitchev. 
At junior riders' level, Grecian Lavinia Macropoulou topped the board in the Kur to Music with 68.167%. She earned individual gold on the 14-year old Dutch warmblood Widoc Timbre (by Idocus x Ramiro Z). Bulgarian Mirela Raikova and her 11-year old Dutch bred Brooklyn (by Flemmingh) were solid for silver with a 68.167% earning freestyle. Turkish Irem Kaplan and the 13-year old Dutch bred Zayson F (by Painted Black x Pion) won bronze with a 66.667% Kur ride.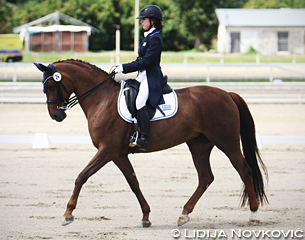 Only three Young Riders competed for medals in the Kur to Music and Grecian Isabella Nina Ravini aced the class with her 15-year old Hanoverian Djona's Figaro (by Don Gregory x Prince Thatch xx) on a score of 69.125%. She left all competition far behind her as team mate Elisavet Maiki and 16-year old Westfalian gelding Sir Kavalier (by Sir Scholling x Rosenkavalier) got silver with 65.458%. Bulgarian Katerina Tsvetanova and the 15-year old Bulgarian bred Preslav (by Podem) scored bronze with 64.500%. The pair has been competing internationally since 2013 and rode their fifth Balkan Games this year. For the horse it was the sixth Balkan Games as in 2010 he showed under Svetoslava Kostova.
The senior FEI riders contested the Balkan Championships at small tour level and for once Greece did not take home the gold in the individual competition. Slovenian Grand Prix rider Birgit Fabris-Sauer took her small tour horse Ria, her husband Stanislav's 8-year old Trakehner mare by Perechlest x Markzauber, to Zagreb and scored a triple victory there. The pair won the Prix St Georges and Intermediaire I for the team competition and then earned individual gold in the Intermediaire I Kur to Music by scoring 68.875%. The German born Fabris-Sauer is a head rider at the Lippizaner state stud in Lipica.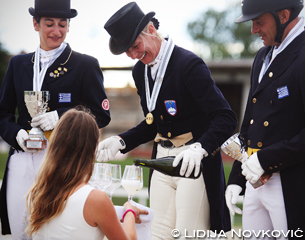 Grecian Christina Sachinoglou and the 18-year old gelding Rafaello (by Rifs L out of Dekoracija) scored 68.458% for silver. In the past two years the 28-year old Grecian has not competed internationally, except at the Balkan Games in 2016 and 2017. Team mate Stelios Stavroulakis finished with the bronze medal after scoring 67.583% in the freestyle with his former jumping horse Baiao, a 14-year old Oldenburg gelding by Balou de Rouet x Landcapitol. The 40-year old show jumping rider Stavroulakis occasionally switches to dressage when Balkan Championships are on the menu (2008, 2009, 2012, 2016, 2017). 
QUOTE SAUER
Photos © Lidija Novković
Related Links
Scores 2017 Balkan Dressage Championships
Huge Haul of Gold for Greece at 2016 Balkan Dressage Championships
Double Gold for Bulgaria and Turkey at 2015 Balkan Dressage Championships
Greeks Back on Golden Form at 2014 Balkan Dressage Championships
Bulgaria, Greece and Turkey share the spoils at 2013 Balkan Dressage Championships 
Greek Riders Claim Lion's Share of Medals at 2012 Balkan Dressage Championships
Double Gold for Greece and Turkey, but Romania's Alexandrescu Secures Senior Title
Greek Riders Dominate But Romania's Alexandrescou Takes Individual Gold