2017 PS Online Foal Auction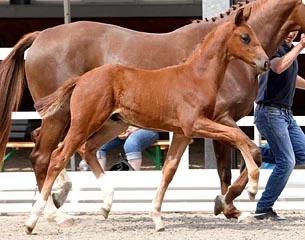 The chestnut colt Vuitton became the top seller of the 2017 PS Online Foal Auction, the first auction organized by Paul Schockemohle where the bidding took place online. The final bidding concluded on 25 June 2017 at 17h00.
Fourteen dressage bred foals were offered for auction at this inaugural online edition. 
Vuitton (by Vitalis x De Niro x Wanderbusch II) fetched the top auction price of 51,000 euro. Vuitton is bred by Josef Bramlage.
The black colt First Dance (by Furstenball x De Niro) switched owners for 20,250 euro. The same price was paid for the dark bay colt For Diamond (by For Romance II x Rohdiamant)
The dark bay filly Viva Amour (by Vitalis x San Amour) sold for 16,250 euro to Simon Kohlenbrenner, while the black filly Totilas Perle (by Totilas x Jazz) sold for 12,500 euro. Fandango (by Furstenball x Londonderry) achieved 11,750 euro. 
The other prices were:
Sira Queen (Sir Donnerhall x Rotspon) - 10,750 euro
Danciade (by Danciano x Furst Romancier) - 10,500 euro
Furstin Deam (by Fursten-Look x De Niro) - 10,250 euro
Tango (by Top Gear x Furst Romancier) - 9,750 euro
Feinen Kerl (by Feinrich x Florencio) - 9,250 euro
Danrich (by Danciano x Fleury) -  7,750 euro
Furst Dantino (by Furstenball x Dante Weltino) - 6,500 euro
Vaniro (by Vitalis x Bretton Woods) - 6,500 euro
"To be honest we were surprised from the start, how well the online foal auction was going, from day one," said Paul Schockemohle. "But what happened in the last minutes of the auction time for each foal was thrilling. It's totally different from a live auction, but equally exciting."
"With this foal auction format we have created a win-win situation," Paul added. "For breeders this format means a lot less hassle, more chances and more success. The buyers can just inspect the foals from the comfort of their horses and buy them. The biggest advantage is that the foals and their dams don't have to travel."
Related Links
2017 PS Online Foal Auction: Spotlight on Viva Amour & Tango
2017 PS Online Foal Auction: Spotlight on Vuitton & Totilas Perle
2017 PS Online Foal Auction: Spotlight on Sira Queen & Vaniro
2017 PS Online Foal Auction: Spotlight on Fandango & Furstin Dream
2017 PS Online Foal Auction: Spotlight on Danrich & Feinen Kerl
2017 PS Online Foal Auction: Spotlight on Furst Dantino & Danciade
2017 Paul Schockemohle Online Foal Auction - Collection Launched