PRE Breeding News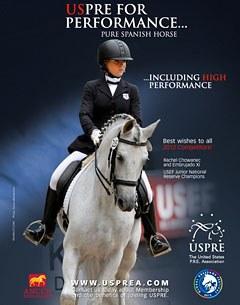 The first clinic in the newly announced USPRE Sport Initiative for Dressage (SID) is now accepting applicants. Eight pairs will be selected to participate in a special clinic at Mountain View Sport Horses in San Luis Obispa, CA, on 8 - 9 July 2017. Charlotte Bredahl will be the clinician.
The USPRE Sports Initiative for Dressage is a program that will contribute to the development of PRE pairs at the FEI-levels (Junior, Young Rider, U25, Young Horse and Adult) toward the ultimate goal of United States team participation.
While the presence of PRE horses at USDF and CDI shows across the country has increased exponentially in the past decade, the ultimate goal of having a PRE horse participate on the United States Dressage Team at the Grand Prix level is unachieved.
After years of promoting the PRE horse as a viable alternative for top sport, the PRE community has reached certain significant milestones: PRE horses with US riders have achieved USDF national championships at the FEI levels, placed well in international shows against top competition, and have been invited to participate in the Festival of Champions at all FEI levels (Grand Prix, Small Tour, U25, Young Rider and Junior), however to date no PRE horses have risen to the distinction of selection for a US Adult Team. USPRE believes that by establishing this Sports Initiative for Dressage more PRE horses and riders of exceptional quality will rise to the top of the field in order to become part of the USEF developing program for team contention.
The first USPRE SID Clinic will feature Charlotte Bredahl as clinician. She is a US Olympian, 4* Dressage Judge, Member of USEF High Performance Committee, and Youth Coach for USEF Dressage.
How to apply:
Selection for the clinics will be based on the following criteria:
Automatic Inclusion: Copa USPRE Champions/Reserve Champions
Automatic Inclusion: Past participation (12 months) on a USEF or NAJYRC Team
Automatic Inclusion: Prior year All Breeds Champions at Juniors, Young Riders, FEI 5 and 6 Year Old (with min. median score of 7.0), U25 (with median score of 62%), Prix St. George, Inter I, Grand Prix, Grand Prix Special. No freestyles.
All qualified participants (from 1-3 above) should contact USPRE with their written intention to participate.
Others not included above may apply to participate by submitting the following to the USPRE Office in Wellington, FL:
1- Riding Video
2 - Print out of all scores from the past 12 months
3 - Written Request to the Dressage Committee, chaired by Janne Rumbough
4 - All applicants must pay a $50.00 registration fee.
Applicant must be a USPRE Member in good standing, with ANCCE-registered PRE horse.
Rider must be a US citizen.
USPRE will underwrite all expenses for the clinic, with the exception of stall rental/board at the facility and individual riders' personal expenses. 8 riders per clinic.
Deadline to apply for the July Clinic is June 15.
For more information, click here or contact us at unitedstatespre@gmail.com.
Related Links
USPRE Sports Initiative for Dressage
A Magical Week for PRE Lovers During 2017 USPRE Week in Wellington
USPRE Announces 2016 Copa USPRE Winners and 2017 USPRE Dressage Team
Aragon GAF, Winner of PRE Breed Class at 2015 Devon Breed Show