2017 Spanish Dressage Championships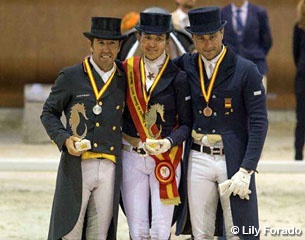 Under 25 rider Juan Matute Guimon and Grand Prix rider Beatriz Ferrer-Salat won the 2017 Spanish Dressage Championships held in Segovia, Spain, on 1 - 3 June 2017. The competition in Segovia was a big one with two national championships, alongside the final youth riders team qualifiers for the 2017 European Junior and Young Riders Championships.
Eight riders competed in the Under 25 Championships, but Florida based Juan Matute Guimon, who is back in Europe for his summer campaign, was a league of his own aboard Yeguada de Ymas' 14-year old Hanoverian gelding Don Diego (by Don Frederico). Matute and Don Diego won all three rounds and was the sole competitor to consistently score over 70%. He got 71.474% in the Inter II, 71.163% in the short Grand Prix and 76.675% in the Kur to Music which was a personabl best score beating a previous record by 3%.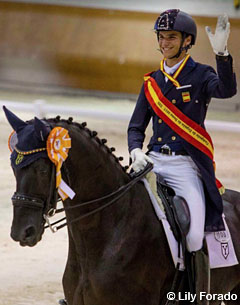 Matute earned the gold with a total of 219.312 points. The silver went to Erik Balasch on the 18-year old Westfalian Dorado (by Danny de Vito) with 196.151 points, while Luis Cerillo Sopena and the 15-year old Hanoverian Saturday Night Fever (by Sandro Hit) got the bronze with 195.374 points. 
"Don Diego was a superstar," Matute told Eurodressage. "We have improved so much since our last time in the ring during the Wellington circuit. I feel confident and he feels very fresh!" Now based in Dusseldorf for the European summer circuit in preparation of the 2017 European Under 25 Championships, Matute says he has not changed any training strategy in the lead-up to Europe. "We have not changed any training methods. The preparations remained the same, but I believe that the change in temperature and setting played a big role. The temperature here is much different. We had sunny days with cool temperatures and no humidity (unlike in Florida). For dark horses like Don Diego it makes a big difference in their endurance."
At Grand Prix leve a solid group of 27 riders gathered in Segovia to battle it out for the title at highest level. Multiple Olympian Beatriz Ferrer-Salat continues to rule in her home country as the one to beat. Aboard her top horse, the 16-year old Westfalian gelding Delgado (by De Niro x Weltmeyer), the Barcelona based rider dominated all three rounds. She scored winning marks of 75.780% in the Grand Prix, 77.294% in the Special and 81.375% in the Kur to Music.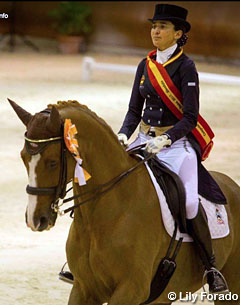 Beatriz Ferrer-Salat earned her XXth Spanish Grand Prix Champion's title in her career, in 2017 with a total of 234.449 points. The silver medal went to a very consistently perforing Claudio Castilla Ruiz on Yeguada la Perla's 12-year old Lusitano stallion Alcaide (by Lobito x Novilheiro) with 221.405 points. The bronze went to Jordi Domingo Coll on Nahman Andic's 10-year old Hanoverian stallion Statesman (by Sandro Hit) with 213.472 points. 
Ferrer-Salat has now won her fifth Spanish Grand Prix title in her career. In 2001 and 2003 she won on Beauvalais, in 2010 on Fabergé and in 2016 and 2017 with Delgado. Beatriz couldn't be happier with how Delgado went in Segovia this weekend. 
"Delgado was amazing," she told Eurodressage. "He performed three very good tests, the GP Special had no mistakes, the GP one mistake in the zigzag and he changed and back  before the second pirouette. In the kür there was one little mistake in the ones. Apart from that, he was fresh and expressive, a real pleasure to ride." Beatriz now aims to ride at the CDIO Aachen and hopes to get selected for the Europeans in Gothenburg.
Photos © Lily Forado
Related Links
Scores 2017 Spanish Dressage Championships 
Ferrer-Salat Grabs Grand Prix Title at 2016 Spanish Dressage Championships
Carmen Naesgaard Wins 2015 Spanish Grand Prix Championships
Jose Daniel Martin Dockx and Grandioso Win 2014 Spanish Grand Prix Championships
Jose Antonio Garcia Mena and Norte Win 2013 Spanish Grand Prix Championship
Martin Dockx Captures First Grand Prix Title at 2011 Spanish Championships
Beatriz Ferrer-Salat Recaptures National Title at 2010 Spanish Championships
Scores: 2009 Spanish Dressage Championships
Munoz Diaz, 2008 Spanish Grand Prix Dressage Champion
Juan Matute, 2007 Spanish Dressage Champion
Rafael Ortiz, 2006 Spanish Dressage Champion
Jimenez Wins 2005 Spanish Dressage Championships in Home Town