Japanese Dressage News
The internationally competed Lusitano Grand Prix mare Batuta has potentially been sold to Japan as a 2020 Tokyo Olympic hopeful. The 10-year old mare apparently moved to The Netherlands almost two months ago but the sales has not yet been entirely finalized and confirmed.
The 11-year old Batuta (by Quixote x Icaro) is bred by Sociedade Quinta das Terras and was initially owned by Coudelaria Herdade das Figueiras, when Jose Antonio Garcia Mena brought to bay mare up to international Grand Prix level. Mena could not secure the ride on the horse for the future and Figueiras sold her to the Portuguese's company International Sport Horse Investment (ISHI). The ride was allocated to Gonçalo Carvalho.
The new duo made its show debut at the CDI Munich Indoor in November 2014. At the 2015 CDI Vidauban four months later in March the mare tested positive to controlled medication and her rider had to pay the FEI an administrative sanction. The pair  continued their 2015 show campaign in Vilamoura, Saumur, Hartpury, Odense, Lon, Stuttgart, Salzburg, and London. In the summer they represented Portugal at the 2015 European Championships in Aachen, where they were 13th in the Kur to Music. They finished the year with the 2015 Portuguese Grand Prix Champion's title.
When ISHI bought Batuta in 2014, they had set the 2016 Olympic Games in Rio as goal. The first three months of 2016 the duo showed in Lisbon, Nice and Jerez, but when the FEI announced that Portugal had not obtained an individual slot for the Olympics, Carvalho and Batuta was no longer seen in public nor competed. They made a come back in October 2016 to reclaim the title of Portuguese Grand Prix Champions. 
ISHI found potential new owners already back in February. Although the mare moved to The Netherlands in March to become the new ride for a Japanese rider, the sale is still kept under wraps. Eurodressage contacted the previous rider Carvalho as well as agent/trainer Imke Bartels, but none were willing to disclose information at this point.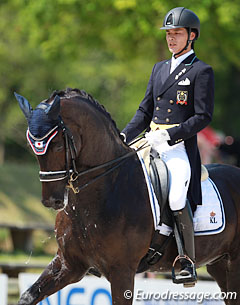 The rumoured new rider for Batuta is Kazuki Sado. The 32-year old Sado has competed Bellissimo (by Don Renoir x Flemmingh) and Ziroco (by San Remo x Peter Pan) at international Grand Prix level in 2015 and 2016. In 2016 he also showed three horses at international small tour level: Urban Legend (by OO Seven x Kennedy), Di Luca B (by Vivaldi) and Soraya van het Trichelhof (by Don Ruto x Godwin van ten Bosch).
Sado rides for the Japan Racing Association, which owns Bellissimo, Di Luca B, and Soraya. Kazuki has been training in The Netherlands since October 2014 when JRA bought Ziroco from Janneke van Riet. She coached Sado through 2016 but is now back aboard Ziroco, competing him for herself.
Photos © Astrid Appels
Related Links
Bartz, Meneres, Castelo, Caetano, Godinho, Cancio, Carvalho Win 2016 Portuguese Championships
Administrative Sanction in Positive Medication Case Goncalo Carvalho's Batuta
Goncalo Carvalho's Batuta Tested Positive to Controlled Medication
Portugal's Best Strive for Rio Points at 2016 CDI Lisbon
Rothenberger and Cosmo Win Again and Take ZettaSportMusic Grand Prix Special at 2016 CDI Jerez
Goncalo Carvalho Gets Ride on Batuta