2017 World Championships for Young Dressage Horses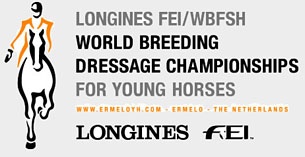 For the second consecutive time the KNHS and KWPN Headquarters in Ermelo, The Netherlands, will host the World Championships for Young Dressage Horses. Due to its tremendous success in 2016, the organizers have changed the schedule around to fit in more horses. Competition will start on Thursday 3 August 2017.
The show organizers have revised the programme to give room to more competitors.
"This was necessary given the great international interest to participate in the event. This year, the qualifying rounds of the 5- and 6-year-old horses are split up over two days to allow for additional combinations. Saturday the 7-year-old finalists battle for the prestigious medals and on Sunday is closed with a thrilling final of five- and six-year-old horses," said 
In the past the 5-year old Finals were held on Saturday, while the 6-year old Finals were scheduled for Sunday. 
In 2016 the World Championships in Ermelo were already action packed with a second arena in which an inofficial 4-year old championship was held as well as a special Stallion class. For 2017 the organisation will add a class for former WCYH competitors. Horses aged 8 and older that previously participated in the World Championships for Young Horses can compete in this international class. More information about this will follow soon. Another class on the programme will be a Stallions of the Year class at Prix St Georges level.
Related Links
Eurodressage Coverage of the 2017 World Young Horse Championships
Eurodressage Coverage of the 2016 World Championships for Young Dressage Horses