FEI News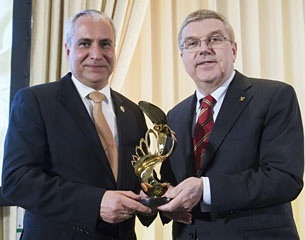 International Olympic Committee President Thomas Bach paid a heartfelt tribute to equestrian sport when presenting FEI President Ingmar De Vos with the IOC President's Trophy this week during the annual FEI Sports Forum 2017.
"Equestrian sport has a lot to be proud of, and the sky really is the limit," President Bach said, to huge applause from more than 300 members of the global equestrian community in the Olympic capital of Lausanne on Monday 10 April. "The sport not only has a long Olympic history, but has always been at the forefront of gender equality. It is great to be here with my friend Ingmar De Vos, and members of the global equestrian community, to celebrate the fact that the FEI is a gender equality champion, as well as a leader in good governance, and is opening up the sport to new fans while modernising this sport which has such a long Olympic heritage."
"This trophy isn't just for the FEI, it's for our whole community," said Ingmar De Vos said after the presentation. "It's a recognition of our incredible global sport and, to quote President Bach, the sky really is the limit!"
The contemporary "The Sky Is The Limit" sculpture, an abstract bronze created by Alexander Krivosheiw, is plated in 24-carat gold and symbolises the story of an athlete gold medallist from conception to consecration as a champion.
Equestrian sport celebrated 104 years in the Olympic movement and 20 years in the Paralympic Movement at the Rio 2016 Games in Brazil. The FEI Calendar now has close to 4,500 international events around the world each year.
Related Links
Selene Scarsi: Gender Equality - Let's Make More of It
Belgium's Ingmar De Vos Elected as FEI President
2017 FEI Sports Forum All About Jumping and Eventing, Officials and Dressage on Day Two
FEI Pledges Support to International Gender Champions Network