2017 CDN Diepenbeek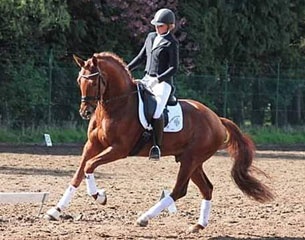 The 5-year old Golddream van de Kempenhoeve, the 6-year old Goldennettie and the 7-year old Barroso became the winners of the first Belgian young horse competition of the season, which serves as qualifier for 2017 World Young Horse Championship team selection. At the 2017 CDN Diepenbeek on Saturday 1 April 2017, a large group of riders gathered to kick off the season.
The 2017 World Young Horse Championships in Ermelo, The Netherlands, are the highlight of the young horse season and any ambitious rider with the fitting horse will give it a go. Seven Belgian national shows have been marked as qualifiers for Ermelo. The four best achieved results per horse (2 scores in the preliminary test, 2 scores in the finals test) will count for points based on the ranking at the show. The four highest scoring horses overall per age division will be nominated for Ermelo (two definite, two reserve).
In the 5-year old division Mieke Dries and the home bred SBS registered stallion Golddream van de Kempenhoeve (by Jazz x Quaterback) topped the board in a field of 15 competitors. The pair scored 75.698 points and was just ahead of Rob van Puijenbroek on the Dutch warmblood stallion Heros Begijnhoeve (by Vivaldi x Havidoff) who finished second with 74.802 points. Gert Helsen and Gerlinde Lauwers' home bred BWP mare Prima Donna (by Chagall x Soprano) were third with 73.979 points. 
The smaller 6-year old division with only 9 horses was won by Linda Meisch on the Dutch warmblood mare Goldennettie (by Jazz x Houston) with 73.708 points. They edged out Flore de Winne with the German bred gelding Basali (by Belissimo M x Weltmeyer) who finished second with 72.667 points. Former junior rider Loranne Livens and the Rhinelander stallion Aragon (by Aaron x Lord Loxley) landed third place wiht 72.292 points. 
In th 7-year old divisions the professionals gathered for the top three spots and qualification points. Routinier Larissa Pauluis and the Dutch warmblood stallion Barroso (by Bordeaux x Saros xx) aced the class with 75.745 points and kept the competition at bay. Francçoise Hologne-Joux and the Niclaus couple's French bred Lusitano cross Alquazar de Massa (by San Amour x Landim) were second with 72.445 points, while Tom Franckx and the Westfalian bred stallion Showdancer (by Stedinger x Donnerhall) were third with 71.447 points.
Results - 2017 CDN Diepenbeek
5-year olds
1. Dries Mieke - Golddream Vd Kempenhoeve - 75,698
2. Van Puijenbroek Rob - Heros Begijnhoeve - 74,802
3. Helsen Gert - Prima Donna - 73,979
4. Hosewol Marinus - Gajninto van Hosewol - 73,677
5. Verreet Katrien- Miss Furstenball - 73,250
6. Pauluis Larissa -  First Step Valentin - 72,438
7. Hosewol Marinus - Gotye -  71,802
8. Klinkhamers Robine - Mamadou A.H. - 70,542
9. Buelens Kayleigh - Fifty Ways to Victory- 70,000
10. Van Den Bogaert Natasja - Hove's Zako - 69,500
11. Appel Christiana - Hero - 68,385
12. Klinkhamers Robine - Stravinsky A.H. - 67,438
13. Borghys Maarten - Mazarine Ter Dolen -  66,938
14. Meiresonne Delphine - Hunter K - 66,010
15. Umans Henri - Duke Royal  - 59,250
Oostvogels Veerle - Just A Gigolo - DNS
6-year olds
1. Meisch Linda - Goldennettie -  73,708
2. De Winne Flore - Basali -  72,667
3. Livens Loranne - Aragon - 72,292
4. Helsen Gert - Laura Ashley -  72,167
5. Cool Isabel - Glorious -  71,833
6. Bervoets Denis - Lars Van Het Kristoffelhof -70,125
7. Cool Isabel - Gilmora - 68,667
8. Dekeyzer Ulricke - Leopold - 67,250
9. Vandecappelle Ine - Generaal - 67,042
Van Laer Nick - Quinto
7-year olds
1. Pauluis Larissa - Barroso - 75,745
2. Hologne - Joux Francoise - Alquazar De Massa - 72,445
3. Franckx Tom - showdancer -  71,447
4. Dossin Julie - First lady -  70,212
5. Tonnaer Jacqueline - fairytale - 68,931
6. De Winne Flore - Lisandro -  67,808
7. Craut Sandy - Free Town -  64,227
8. De Vlieger Andre - Figo -  62,350
9. Van De Keere Marc - Femme Fatale Van De Paardebloem -  61,516
10. Vandecappelle Ine - Katusha Van 't Wijnhof - 61,222
Verreet Katrien - Gallartica Biolley - DNS
Verwimp Jorinde - Kastar Hof Ter Zeedycke D'12 - DNS
Inigo Astiz Tabar - Die Wette - DNS
Related Links
Eurodressage Coverage of the 2017 World Young Horse Championships
Alquazar de Massa Acquired as FEI Hopeful for Francoise Hologne-Joux 
Belaggio, Genie, Barroso, El Corona Texel Win 2016 Belgian Young Horse Championships
Belgian Horses Selected for 2016 World Young Horse Championships