New Zealand Dressage News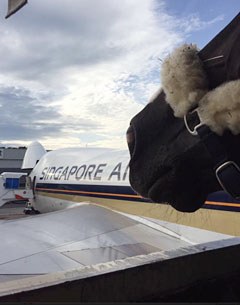 For New Zealand trailblazers Wendi Williamson and Dejavu MH qualifying for the 2017 World Cup Finals in Omaha, NE, USA, is no mean feat. Instead of flying the more logical route from NZL to the USA across the Pacific, the horse has been forced to fly to America via Europe!
However, all the prep work is now done and Dejavu MH is en route to Omaha, Nebraska for his history-making start in the FEI World Cup Dressage Final. The massive journey had to be cut into different legs for the comfort of the horse and logistic-wise.
After flying from New Zealand to the U.K at the beginning of March, the horse was trailered to a horse hotel in Amsterdam with groom Hannah Comrie on 23 March, where they will have a 12-hour stop before the horse boards the charter flight to the USA for a further 11-hour, 4,400-mile flight. Comrie will be there just for the loading.
"DJ ate and drank his way through the 50 hour travel and transit and has arrived (in the U.K.) looking great. Big thank you to IRT for their care of DJ and Hanna," said Williamson.
It's an anxious and exciting time for rider Wendi Williamson. The Kumeu combination had their last training session yesterday with Charlotte Dujardin and Williamson says DJ is feeling great.
"We are so lucky she has made time in her super busy daily routine to fit us in this past week," she said.
During their time in the UK they've done training and hacking, with Comrie and Williamson out and about seeing the countryside while walking and running. Williamson will fly out Friday morning (UK time) so she is on the ground when DJ arrives.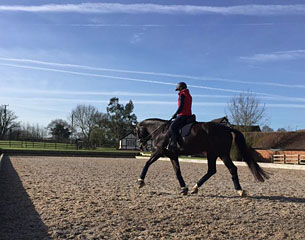 "It has been quite a logistical feat to organise."Twelve-year-old DJ faces two days of travelling and three in quarantine at the show, where they are only allowed to be hand walked, meaning he will not be ridden for five days.
"He will get one day's work before the trot up, and then it is the Grand Prix the next day, so it is pretty full on," says Williamson. "I will be excited when we get there . . . I'll probably have to pinch myself! We have tweaked the musical routine a little – in my usual fashion before a show. I am sorry to those who love Timmy Trumpet, but we have new music too – (husband) Jonnie has been busy."
This is the first time New Zealand has had a dressage combination in the final. Wednesday 29 March 2017 is the familiarisation day for dressage riders, with the Grand Prix on Thursday afternoon, a dressage showcase on Friday and the freestyle to music – the class that will determine the FEI World Cup Final winner – on Saturday 1 April 2017
by Diana Dobson, edited by Eurodressage - Photos © Private
Related Links
How Glanders in Germany Has Affected Global Equine Transportation
Williamson and Dejavu Make 60-Hour Trip to Compete at 2017 World Cup Finals
Williamson First Kiwi to Qualify for World Cup Finals
Wendi Williamson Earns Ticket to Omaha after 2017 Pacific League World Cup Final Victory
Equine Travel Restrictions from Germany to Australia End 30 July 2015