Danish Warmblood Breeding News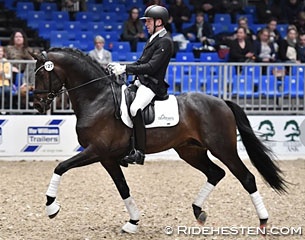 The 2017 Danish warmblood stallion licensing kicked off in Herning on Thursday 9 March 2017 with the approval of 4 and 5-year olds colts. Eight of them passed, two were rejected.
Four 4-year olds and four 5-year olds, which were presented in hand and under saddle in front of the licensing committee after already doing a successful stallion performance test, received a go to breed for the Danish warmblood society.
The crowds highly anticipated the presentation of the Hanoverian auction record horse Revolution (by Rocky Lee x Rouletto), who covered the most mares in Denmark in 2016. Ridden by his owner Andreas Helgstrand with a lot of spectacle and legs flying in the extended trots, Revolution had the crowds go wild. In the walk the right hind leg articulates slightly differently from the left hind. The massive mover and performance test winner was the most talked about horse of the day and received the support of the licensing committee. 
The Danish licensing committee, however, rejected Helgstrand's 4-year old For Emotion (by Foundation x Sandro Hit). A month ago the bay stallion became the second highest scorer (9.08 points) in the 2017 German Stallion Sport Test in Munster, but theyl did not approve him. Helgstrand bought For Emotion for 550,000 euro at the 2016 PSI Auction in December.
The committee also rejected the 4-year old Oldenburg bred For Romance II (by Furst Romancier x Sir Donnerhall I), who was a premium stallion at the 2015 Oldenburg licensing. Owned by Paul Schockemohle and Lone Boegh Henriksen, For Romance II was presented under saddle by Isabel Freese. Despite her good riding, the dark bay stallion consistently goes wide behind, something he already did as a 2.5 year old at the Oldenburg licensing.
The Danish licensing committee does not provide a (public) motivation with reasons of rejection.
The approved stallions are:
4-year olds
Falstaff  (by Ampere x Stedinger) - Owner: Helgstrand Dressage 
Baron  (by Benicio x Sir Donnerhall I) - Owner: Gestut Westfalenhof
Freischütz  (by Foundation x Del Martino) - Owner:  Helgstrand Dressage 
Revolution (by Rocky Lee x Rouletto) - Owner: Helgstrand Dressage, Søren Grønborg & Hanni Kasprzak
5-year olds
Bøgegårdens Alphabeat  (by Ampere x Don Schufro) - Owner: Stina & Jørgen Schmidt
Romeo  (by Romanov x Wolkentanz) - Owner: Kirsten Andresen
Hove's Terminator  (by Temptation x Akinos) - Owner: Poul Hove & Gitte Søgaard
Governor  (by Totilas x Jazz) - Owner: G. Korbeld
Photo © Ridehesten
Related Links
Revolution Wins 2016 Danish Warmblood Autumn Stallion Performance Testing
Rocky Lee Son Claims the Spotlight at 2015 Hanoverian Stallion Licensing
Bonds, High Scorer at 2017 German Stallion Sport Testing in Munster
Six Stallions Accepted at 2017 Hanoverian Stallion Approval
Hesselhoj Donkey Boy, Victoria's Secret, Fiontini Win 2016 Danish Young Horse Championships