NRPS Breeding News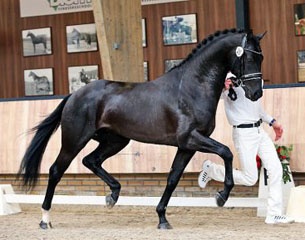 The black D'Joep (by Desperado x Vivaldi) has been named the champion of the 2017 NRPS Stallion Licensing which concluded on Sunday 5 March 2017. D'Joep was named the stallion with the "best Trot" which stands for the licensing champion with the NRPS society.
Fifteen dressage and show jumping bred stallions were accepted for the stallion performance testing as well as eight pony stallions. 
Bred by Jurgen van der Meijden and presented by Linda Leeflang, D'Joep was originally named Joep as he is KWPN registered, but as soon as the colts get NRPS licensed status, their names are often adapted to the NRPS system, which follows the German system in which the first letter of the stallion's name will be the same to the first letter of the sire's name. In D'Joep's case the sire is Desperado.
The best moving, licensed NRPS pony was Da Vinci (by Dylano du Bois x Evanto's Nieuwmoed), bred by Hedwig van Dellen-Bleeker and owned by Jody Bakker. 
The other licensed NRPS dressage stallions are:
Bakardi JK (by Breezer x Wolfgang)
Brad Pitt (by Brandon x Fiderhit)
Escobar (by El Capone x Sydney)
Extra (by Everdale x Havidoff)
Evergro (by Everdale x Negro)
Especial (by Everdale x Vivaldi)
Jason (by Johnson x Negro)
Painted Pride (by Painted Black x Redford)
All You Want (by Apache x Goldstar)
The complet list of the newly licensed NRPS horses and ponies here.
Photo courtesy NRPS.nl
Related Links
Nagano, High Scorer at the 2017 NRPS Stallion Performance Testing
Fideniro, Crowd Favourite of the 2014 NRPS Stallion Licensing
Guidam's Willow the Second, Champion of the 2013 NRPS Stallion Licensing
Thirteen Stallions Approved at 2012 NRPS Stallion Licensing
Twenty Colts Accepted at 2011 NRPS Stallion Licensing
Twenty-Five Colts Approved at 2010 NRPS Stallion Licensing
Sunliner, Champion of the 2009 NRPS Stallion Licensing
Fifteen Stallions Approved for the NRPS Studbook
Ferrero Wins 2006 NRPS Stallion Licensing