Swedish Dressage News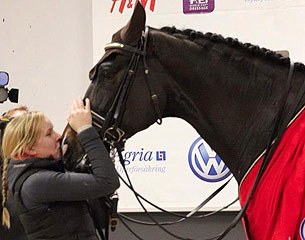 Three dressage personalities - Sara Lord, Lina Dolk and Kyra Kyrklund - were recognized for their contributions to equestrian sport in their country at the 2017 Swedish Riders Gala  in Gothenburg, Sweden, on 22 February 2017.
Tinne Vilhelmson-Silfven's groom Sara Lord was named the Groom of the Year. She has worked for the Swedish Olympic team rider for ten years. She is described as a groom who is "putting the horses' best interests above all and despite her fear for flying, goes everywhere the horses are required, including the Olympics in Rio."
The Finnish born and British based trainer Kyra Kyrklund, who has been actively committed to coaching riders in Sweden, was the recipient of the Year's Special Prize. Jan Brink received the trophy in her name. 
The 19-year old Under 25 Grand Prix rider Lina Dolk was named "Comet of the Year" as the biggest shooting star on the Swedish scene in all three Olympic disciplines. This trophy is awarded by the Swedish equestrian magazine Ridsport. 
Further winner's plaques were offered to Tinne Vilhelmson-Silfven for dressage as she rode in her 7th Olympics in Rio and finished second at the 2016 World Cup Finals in Gothenburg. Jeanna Hogberg's horse Fiorucci HT (by Florencio x Rubinrot) was named shooting star dressage horse of the year. Under 25 rider Josefin Gyllensward was also named "Star of Tomorrow". She competed at the 2016 European Under 25 Championships. 
Related Links
2016 Swedish Riders Gala To Relocate and To be Hosted in 2017
Lina Dolk Nominated for 2016 Comet of the Year Award
Previous Winners
Kristoffersson, Kittel, Haward, Etzner, Dan Brown and Don Auriello Honoured at 2015 Swedish Riders Gala
Aldenfalk, Strolchi, Darcia VH Honoured at 2014 Swedish Riders' Gala
Marina Mattsson Honoured at 2013 Swedish Riders' Gala
Lette and Hagman Award Recipients at 2012 Swedish Riders' Gala
Cecilia Dorselius Nominated to Become 2011 Comet of the Year
Kittel, Telde, Hofmann Honoured at 2010 Swedish Riders' Gala
Bergstrom Kallstrom, Comet of the Year at the 2009 Swedish Riders' Gala