American Dressage News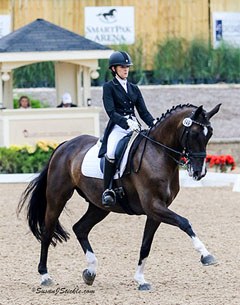 Following a decorated Junior and Young Rider career, Wellington based Sierra Keasler has been selected to participate in the prestigious 2017 coaching program with U.S. Youth Team trainer and FEI Judge Charlotte Bredahl.
The USEF's Dressage Youth Program targets some of the country's best up-and-coming dressage talent, helping aspiring Juniors and Young Riders break their glass ceilings and build their skills in the upper echelons of dressage sport. As part of their resolve to connect with and teach America's future dressage stars on a more regular basis, the USEF implemented the Select Athlete's One-on-One Coaching Program, which identifies top Juniors and Young Riders to connect with top FEI coaches with the intention of providing support and resources for them to advance in competition. 
Horse and athlete combinations must meet rigorous criteria to be considered, including average scores of 68% or higher on the USEF Ranking Lists for the 2017 and 2016 U.S Championships/NAJYRC/U25 Grand Prix or have earned a top 3 placing of 68% or higher in the last 12 months in the Young Rider or Junior Divisions at the Festival of champions and/or CDIs.
Keasler, who has been a top placed competitor since 2011, has numerous advanced dressage placings including Reserve Champion in the US Under 25 Championship, a top 5 finish in the North American Junior/Young Riders Championships, and scores over 70 in the FEI Grand Prix and U25 Grand Prix. She currently trains with Silke Rembacz in Wellington, Florida, who will be included in the coaching program's workshops as she and Bredahl work to take Keasler's career to the next level. As she gears up for another season of intense competition on Florida's winter dressage circuit, Keasler is thrilled to be able to receive concentrated, in depth instruction from Charlotte Bredahl and Dressage Youth Program.
"Any opportunity to work with the USEF has been an invaluable learning experience and particularly rewarding in terms of my development as a rider," said Keasler. "I'm so happy that I've been selected to receive the One-on-One training, and look forward to the opportunity to ride with Charlotte and utilize the input from a highly regarded coach and judge. I cannot state enough how beneficial these programs are for competitors and am thankful that the USEF has chosen to invest their time and efforts into developing young riders."
In 2016 Keasler campaigned Danish warmblood Lux Stensvang in the U25 Grand Prix, culminating in a 4th place overall finish at the 2016 US Dressage Finals. After purchasing Lux as her primary competition mount, Keasler began training in 2016 with FEI dressage trainer Silke Rembacz as she prepares for the 2017 Global Dressage Festival.
Photo © Sue Stickle
Related Links
Williams and Bredahl-Baker Named US Dressage Youth Coach and Assistant Dressage Youth Coach
Davis, Vaughn, Uhlir, Keasler Receive USEF Developing Dressage Program Competition and Training Grants
Nemeth and Hickok Win 2015 U.S. Pony and Under 25 Championship on Final Competition Day