2017 CDN Wellington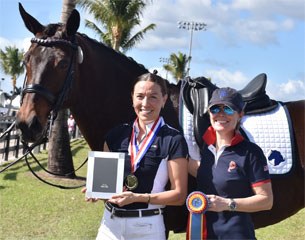 The team from Piaffe Performance Farm has once again proven their mettle by earning exceptional scores and placings so far at the world-class Global Dressage Festival in Wellington, Florida. Given the team's past record for excellence, and this year's outstanding start to the 2017 competition season, it appears as though Dr. Cesar Parra and his elite team of riders will continue to combine an impressive mix of talent, hard work, and dedication in order to excel at the highest levels of dressage.
Dr. Parra, Olympic dressage rider and founder of Piaffe Performance, is no stranger to the world of high-stakes dressage competition. Among his long list of past achievements in the sport are representing the U.S. in the 2011 Pan American Games, where he helped secure a Team Gold Medal for the USA, as well as representing the USA at the 2014 World Cup in Lyon, France. This year, Parra, along with team rider Roberto Brasil, have been earning top placings at the 2017 Adequan Global Dressage Festival in the USEF Developing Prix St. Georges and the FEI Intermediate II.                         
Parra and eight-year-old Westphalian mare Belle Ami (Belissimo M x Reebook), posted a high score of 70.294 percent in the USEF Developing Prix St. Georges, winning the class. The duo went on to score even higher on day two, earning a 71.029 percent score in their second USEF Developing Prix St. Georges class. Belle Ami is owned by Parra, Brooke Centrella, and George Feldman.
Brasil came away from the first week of competition with a victory in both FEI Intermediate II classes on Whoopie Gold. Brasil, a 27-year-old rider from Portugal, is an 11-time Azores Dressage Champion through Intermediate 1, and a Portugese Cup Silver and Bronze medalist. After graduating from Azores University with a degree in International Politics, he came to the United States and joined the Piaffe Performance Team in 2014.
Parra and his elite group of equestrian professionals celebrate the success of their fellow athletes at the Global Dressage Festival by rewarding accomplished adult amateur riders with the Piaffe Performance Adult Amateur Achievement Award. Parra, who trains many amateurs as well as professionals, enjoys honoring the hard work and dedication displayed by the riders who receive his award. As part of Piaffe Performance's annual Global Dressage Festival sponsorship, the award is presented throughout the competition series, which concludes on March 25.
Catherine Malone and her Dutch Warmblood mare Dilona (by Lord Leatherdale out of Vajda) earned the first Adult Amateur Achievement Award of the winter competition season. The pair won their FEI Prix St. Georges class with an impressive score of 69.868 percent. Malone, who trains with Todd Flettrich, is in her third season competing with the mare.
Although balancing a busy life as a dressage rider and raising a 13-month-old baby boy, Malone said, "I thoroughly enjoy my life, so I don't think it is that difficult to multi-task. Having a baby and trying to get ready to show surely takes a team, though. If you have good people around you it makes everything so much easier and less stressful." 
Malone remains dedicated to her riding, because of her love of horses and dressage. "I wake up every morning excited to see what the tasks will be for the day, what the horses will be like, and what I want to accomplish," she explained. Her advice to other amateurs moving up the levels: "Find somebody you can trust to help you. If you have someone who you really believe in, you can constructively take their advice and criticism; that is the most important thing."
Piaffe Performance, founded in 1999, provides full-service training based on classical German methods. Parra and his Piaffe Performance Farm Team, with locations in Jupiter, Florida, and Whitehouse Station, New Jersey, invite dressage riders to become part of their winning tradition. To learn more about Dr. Cesar Parra, his Piaffe Performance team, training, and lessons, visit www.Piaffe-Performance.com. 
by Johnny Robb
Related Links
Piaffe Performance Farm Brings Adult Amateur Awards and Rider Lounges Back to AGDF
Parra's Fashion Designer and Don Cesar Bag Reserve Champion's Title at 2016 U.S. Young Horse Nationals
GK Horses Acquires Darius Rubin for Cesar Parra